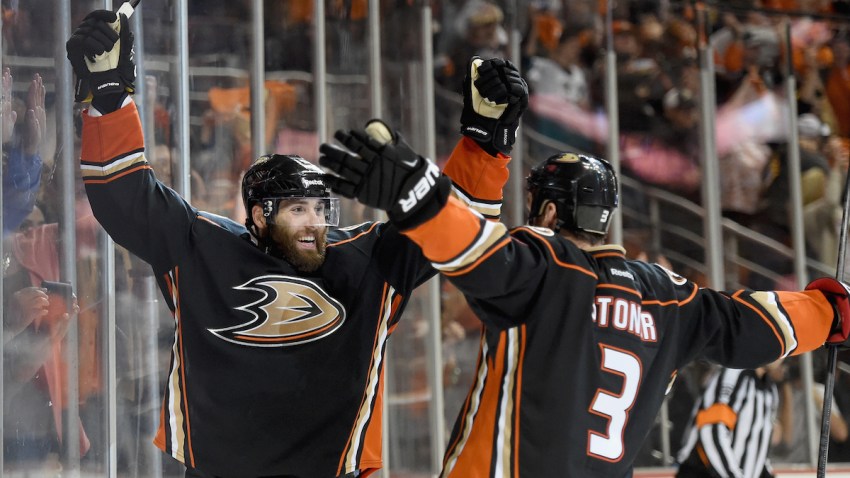 Early in the third period of the Chicago Blackhawks' 5-2 victory over the Anaheim Ducks Wednesday night, Ducks defenseman Clayton Stoner scored a goal that has been the source of some debate.
On the play, Stoner fired a shot toward the net from the blue line, but while the puck was in flight, Ducks forward Jakob Silfverberg skated across the front of the net, coasting just in front of the blue paint. Blackhawks goaltender Corey Crawford had come out to the top of his crease to play the puck, and as he was getting ready to make a play, Silfverberg appeared to come into contact with the goaltender's glove. The puck ended up going in, and the goal was allowed to stand as the referees didn't whistle any infraction on Silfverberg.
Here is a video of the play in question:
The question that immediately came to the minds of Blackhawks fans (and to Crawford, who incredulously yelled at the officials for not whistling a penalty or disallowing the goal) was this: why wasn't Silfverberg charged with a penalty on the play? After all, he did make contact with Crawford as he came across the front of the net, and even though the goaltender wasn't in the crease, Silfverberg still isn't allowed to come into contact with him.
Unfortunately for the Hawks, the play happened so quickly that the officials couldn't get a good look at the contact, and according to NHL rules, incidental contact with the goaltender is not a reviewable play. If the contact had been more egregious, there would have been grounds to review the call on the ice, but since no call was made at the time, the officials' hands were tied on the play.
The play serves as yet another reminder of what numerous commentators and players have called for in recent years: incidental contact needs to be a reviewable play in the NHL. Video replay clearly shows contact in this instance, and if officials were given the opportunity to look at it again, odds are that the goal would have been overturned and the Ducks' momentum surge would have stopped right in its tracks.
In addition to making incidental contact reviewable, the play also highlights the need for a coach's challenge in the NHL. In the NFL and MLB, coaches can request reviews of plays, but no such mechanism exists in the NHL. There has been discussion over how and when it will be implemented, but if such a system were in place, it isn't a stretch to think that Joel Quenneville would have asked the officials to take a look at the goal to determine whether there was a penalty called.
At any rate, the Blackhawks did win the game even with the questionable call, but it serves as yet another example that league rules and officiating are still far from perfect.