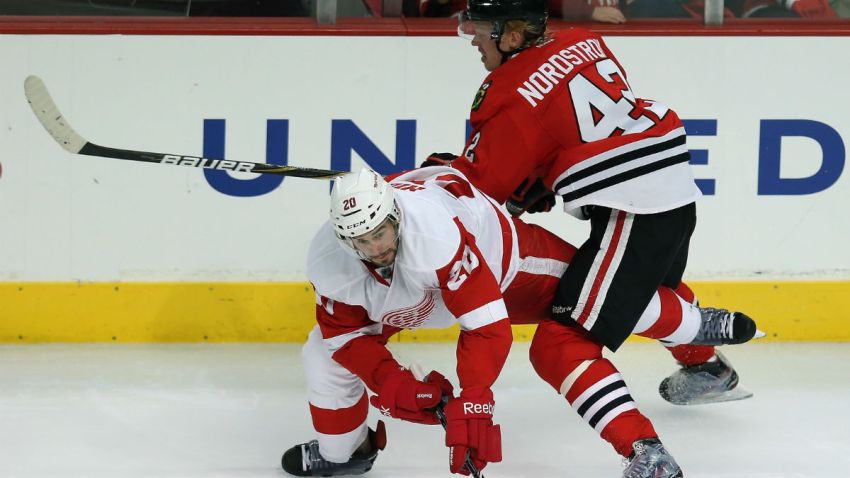 The Chicago Blackhawks made a couple of tweaks to their lines at practice on Friday, with Ben Smith taking the place of Jimmy Hayes on the third line and Michal Handzus rejoining the lineup as the second line center.
Marcus Kruger also dropped back down to the fourth line after filling in at second line center on Thursday, skating between Brandon Bollig and Joakim Nordstrom as he did during the season opening victory over the Washington Capitals.
One question that this lineup raises is whether or not Hayes should be playing in place of Nordstrom on the fourth line. After all, while Nordstrom was good at even strength in the Hawks' game on Tuesday, he was pretty bad in penalty killing situations. He was largely responsible for the goal that Alex Ovechkin scored on the power play in the first period, losing his coverage on him and drifting towards the center of the ice while Ovechkin had an open lane to corral a rebound and fire a shot top shelf past Corey Crawford to tie the game at 1-1.
Obviously, putting Smith back into the lineup would mean that Nordstrom would likely be taken off of penalty killing duties, but is Nordstrom then the best candidate for fourth line minutes ahead of Hayes? Yes, Nordstrom looked good in terms of helping the fourth line get some lengthy possessions in the Caps' zone, especially on Bollig's first period tally that came on a long shift, but Hayes brings the same elements of size and grittiness, while also adding a bit more scoring touch to a line that isn't exactly swimming in it with Bollig on the ice.
Yes, it was only one game, and yes, Nordstrom did excel during training camp, but so did Hayes, and it can be argued that Hayes brings more to the table than the Swedish import does.