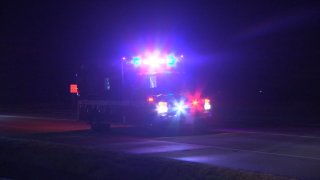 A deputy with the Grundy County Sheriff's Department was said to be in "good spirits" Thursday after a bulletproof vest stopped multiple bullets that were fired at him during a pursuit-turned-shooting, authorities said.
At approximately 5:10 p.m., the deputy tried to conduct a traffic stop near the town of Mazon, approximately 8 miles south of Morris, but the driver in question refused to pull over and led police on a pursuit.
After jumping out of his vehicle, the deputy chased the suspect for several blocks, Grundy County Sheriff Ken Briley said. At one point, the deputy got within an "arms length or two" of the suspect. Moments later, the individual turned with a handgun, fired shots at the deputy, striking him three times, police said.
The deputy sustained one gunshot wound to the forearm, which resulted in a muscle injuries. He was shot a second time in the chest, and a third time in the back, but those bullets were stopped by his bulletproof vest, authorities said.
The deputy was said to be in "very good shape" Thursday evening.
"We're very, very lucky that the ballistic vest stopped those two bullets," Briley said.
The suspect was apprehended following a standoff at an apartment complex, authorities said. He advised negotiators that he had been shot, but authorities said it wasn't immediately clear if the deputy opened fire.
The shooting investigation is being led by the Illinois State Police.