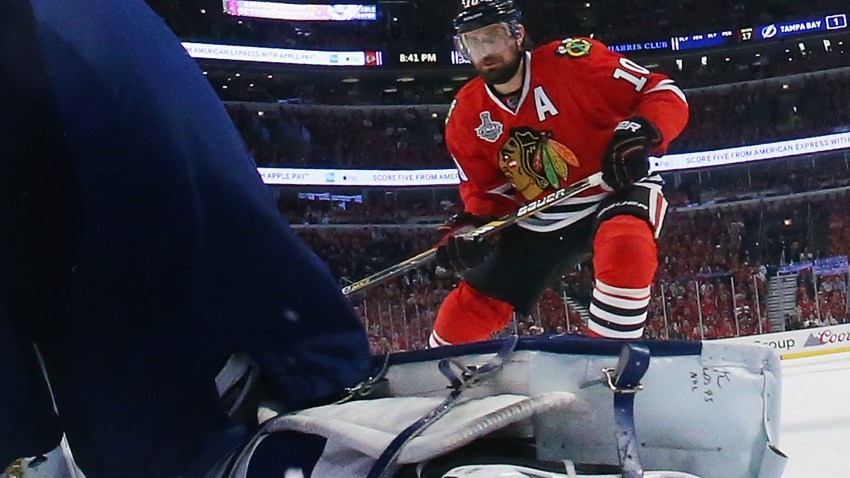 Patrick Sharp has been the subject of trade chatter ever since the Chicago Blackhawks hoisted the Stanley Cup last week, and as we inch closer to Friday's NHL Entry Draft, teams are starting to jockey for position in order to acquire the winger.
According to Chris Kuc of the Chicago Tribune, there are three teams that have expressed interest in acquiring the veteran forward. The Pittsburgh Penguins are one possible home, with a pairing alongside Evgeni Malkin or Sidney Crosby seeming like an ideal situation. The Florida Panthers could also be interested, as Dale Tallon has a history of trading for high-priced talent from the Blackhawks.
Finally, another team seems to be creeping into the proceedings, as the Dallas Stars could potentially make a run at Sharp. The team has plenty of young prospects to utilize in a deal, but the asking price might creep up because of their status as an up-and-coming divisional rival for the Blackhawks.
Mark Lazerus of the Chicago Sun-Times also had a couple of other teams to add to that list of suitors, including the Washington Capitals, Detroit Red Wings, and the Montreal Canadiens. The Capitals would seem to be an incredibly attractive destination, with Niklas Backstrom and Alex Ovechkin seeming to be perfect linemates. The Red Wings and Canadiens could also use a scoring winger for their top-six forward groups, but with Montreal's tight cap situation, the Red Wings could be viewed as a slightly more likely destination.