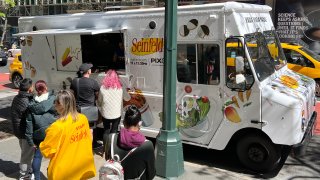 Keep an eye out for a truck sporting muffins, pretzels and a big salad this weekend because the 'Seinfeld' food truck is trekking through Chicago and Oakbrook.
From Friday through Sunday, the truck will roll into the area to serve free sitcom-themed snacks. While soup isn't on the menu, fans can grab a bite of black and white cookies, Junior Mints, coffee cakes, Ring Dings, chocolate Babkas and Snickers. 
Where in Chicago and the Suburbs to Find the 'Seinfeld' Food Truck This Weekend
The truck will be stationed from 11 a.m. to 5 p.m. Friday and noon to 6 p.m. Saturday at the Jane Byrne Plaza. It will be open from 11 a.m. to 5 p.m. Sunday next to Macy's at Oakbrook Center.
Fans in New York and Los Angeles already have gotten a taste of the sweets last week, and Chicago is next on the lineup. Dallas and San Francisco also will get paid visits in May.