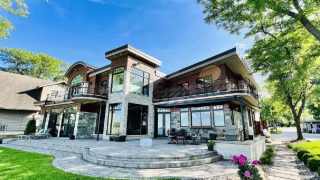 A $4.2 million lake house for sale in Madison, WI, brings the fun inside and out thanks to both a stunning view of Lake Mendota and an epic indoor slide.
Realtors describe the 6,113-square-foot, five-bedroom and 6-bathroom home as a "showstopper," noting the property's "breathtaking" views, many windows and game room.
There's also an elevator, theater room, and in case you're in a race to kitchen, a slide.
Check out the inside of the home in the photos below courtesy Sprinkman Real Estate and Martin Menocal Photos.