NOTE: NBC Chicago will offer a live stream with complete 2019 race coverage beginning at 7 a.m. on Oct. 13 right here.
The Bank of America Chicago Marathon takes runners on a scenic journey through Chicago.
The 26.2-mile route goes through several city neighborhoods and offers up unparalleled views of the city.
Here's a look at what this year's route will be: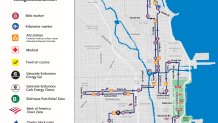 See the full size version of this map here.