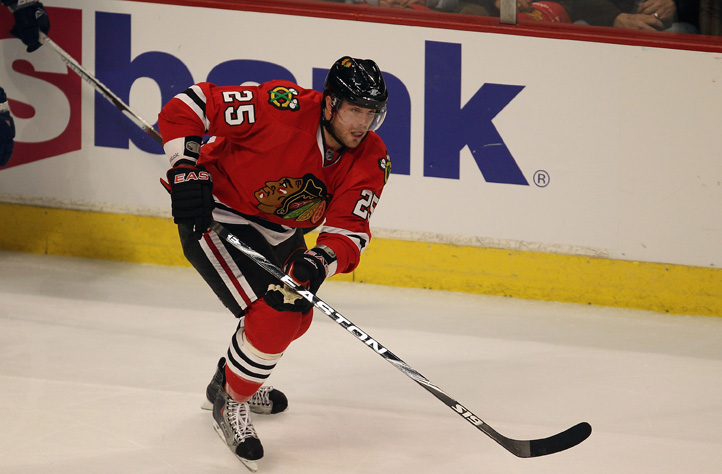 You can look at Viktor Stalberg and see anything you want. You can look at the raw speed, the scoring instincts, the size, and you can think this is a star who just needs the right opportunity break out. Or you can look at the stats, the lack of a willingness to use that size, the inconsistency, and deduce that this guy is just a waste of talent. Or it can be anything in between.
What you can't see is where Stalberg fits in the lineup at the moment.
Stalberg finished the year on the fourth line, and despite what you would have thought he had some success there. He used his speed, which is simply on another level (although in every direction) to harass defensemen and cause some havoc. He started throwing that weight around, because that's what you have to do on a 4th line.
But that's not really Stalberg's game. And disappointingly, that strong play on the bottom threesome earned him a trip or two to play with Jonathan Toews and Patrick Kane. And he didn't do much there. And with his skill-set, he really should. But he didn't forecheck, didn't get in front of the net, and didn't be available for passes.
So now what? Well, Stalberg needs to blend these games. He needs to take what he learned being on the 4th line onto higher units. If he can be physical while playing with skilled teammates instead of grunts, he opens things up for himself and everyone else. But can he?
And will it matter? Stalberg is competing with Rusty Olesz and Bryan Bickell and maybe others to plug a gap on the Top 6. He isn't defensively strong enough to play with Dave Bolland (and probably Michael Frolik). And he can't center, so he's have to beat out either Carcillo or Mayers for a 4th line spot, and he doesn't come with that (hockey-term alert) jam that those guys do.
There has to be a role for a guy who can do as much as Stalberg can on a team. But I can't figure out where.