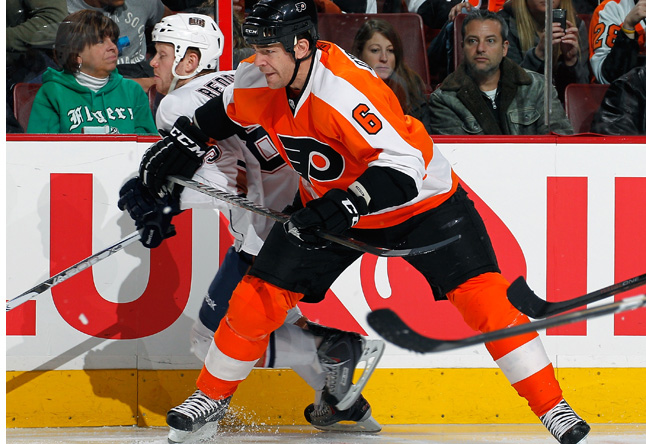 When the Hawks announced the signing of Sean O'Donnell mere minutes after the opening of the free agent gates, a few of us smirked.

"Where was this last July?", we asked, because O'Donnell was exactly the kind of signing the Hawks were screaming for last year that they never made.

He's a veteran voice, steady on the backline in a way that Nick Boynton could never be. He's also a player who's defended a Cup, and who could inform the kids what they were up against and what they were urinating away there on Clark St. late at night.

Alas, it never came to be.
Better late than never, right?
O'Donnell can still bring all those things now, though the defending the Cup train has left the station. The real question is how much is he going to actually get on the ice.

Of course, injuries also play into this, because he'll always be the first call in case of that, if he isn't regularly in the lineup as is.

The Hawks have seven defensemen you could be comfortable tossing out there every night. And O'Donnell did play 81 games last year despite his advanced age, so it's not as if the knees and legs are creaking so loud to scare the children.
It'll depend on what the coaching staff wants out of their third pairing on a given night.

We know how much they love to have puck movers on the ice whenever possible, which is why Leddy was rushed up here and played behind Keith and Brian Campbell. If that's the route they want to go, you'll probably see Sami Lepisto and Steve Montador. Or maybe they'll jumble all the pairings.

On a given night when the Hawks are more concerned with clearing their own crease and stability on the penalty kill, you'll see O'Donnell step in for Lepisto.
O'Donnell didn't sign here to only play 40-50 games, but when you turn 40 in the middle of the season you can't be shocked when that happens. When he does get in the lineup he adds some snarl, which should please the mouth-breathers to no end. But more importantly, he's a steadying presence, and would actually make a great partner for the still-jittery Nick Leddy.

We'll see if the Hawks see it the same way.