Thankfully, the guess here is that an appendix's presence or lack thereof doesn't really affect hockey abilities. Otherwise, this would look very different.
When he does return to the lineup, it's Patrick Sharp's place in the lineup that kind of shakes everything out behind it, and causes just about the most debate among Hawks fans. There are those who feel he's a center point to the Hawks winning a Cup, and there are those who think he's a winger point to the destruction that he, Patrick Kane, and Jonathan Toews cause when put together.

Neither side is probably wrong.
But what we think doesn't really matter. And right now the coaching staff thinks Patrick Sharp is a winger. They also think Patrick Kane is a center at the moment too, so who knows where any of this goes.

The matter is that if Patrick Kane is Marian Hossa's center, then there's less of a point of having Sharp on a wing. That's because the Hawks only liked Sharp on a wing when he could be on the receiving end of Kane's passes. Thanks to their chemistry, he always was.

Does Sharp work on Toews's wing with someone else? No one really knows.
What we do know is that once some injuries occur, Sharp will be back at center for a time. Wherever he plays, Sharp must play a much more well-rounded game than he started off last year.

Last October and November, while he was vaulting himself into the league's goal scoring leaders, he was also treating his own end like an STD clinic. Multiple times you could find Sharp bombing up the ice to get the chance to add to his goal total before his team had even gained possession in their own end. This left his defense stranded, especially as Sharp was a center at this point and it was his main duty to help them out. This is part of the reason that Coach Joel Quenneville wanted to get him to a wing.
But that's well within Sharp. Before last year he was one of the best two-way centers around, and I fully expect him to return to that type of game right quick. With a new contract in hand, the Hawks could also use Sharp being more of a voice in the dressing room. He's a different type of leader, but players will listen if he speaks up if he thinks heads aren't on straight.
Sharp is one of the more unique players around. He can play anywhere, and in any area. Offense, defense, power play, penalty kill, Sharp is a weapon in all of them. Expect him to reassert himself in every area again.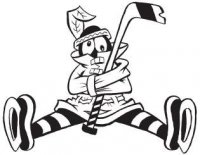 Sam Fels is the proprietor of The Committed Indian, an unofficial program for the Blackhawks. You may have seen him hocking the magazine outside the United Center at Gate 3. The program is also available for purchase online. Fels is a lifelong 'Hawks fan and he also writes for Second City Hockey .