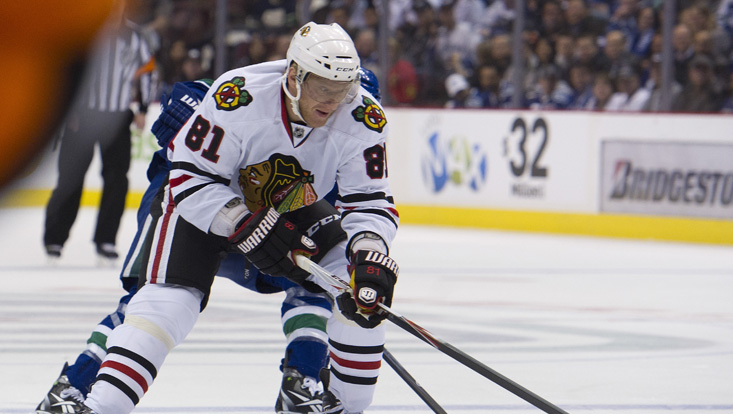 If this were done simply on abilities, then I could easily sit here and call Marian Hossa the Hawks best all-around player. There is no other combination of speed, power, touch, determination, smarts, and defensive awareness like Hossa's. No one is as capable of molding a game to himself, and simply beating the opposition on his own. Jonathan Toews has all the tools, but he doesn't have any 40-goal seasons. Hossa has four. Patrick Kane may be more creative, the lock-picker to Hossa's battering ram, but he only has one 80-point season. Hossa has four of those as well.
But Hawks fans have only gotten limited glimpses of it. He missed the first two months of his first term here, and came back on fire before hitting a wall. Last season, he was all the Hawks were for October before getting hurt again. He also went the Titan route in March, before the heavy minutes he was asked caught up. Worst of all, Hossa hasn't been able to be a true presence in either playoff run he's been a part of here, and that continues the trend of being pretty absent the season before with Detroit. Basically, Hossa has been a tease.
Those of us who support him blame it all on health and fatigue. For three straight seasons Hossa played the most amount of hockey possible, going to the FInal three straight years with three different teams. There was an Olympics tossed in there as well. It's a lot to ask of anyone, especially someone that has age 30 in the rearview. Maybe it took its toll. Maybe he'll never recover fully from it. Maybe he's getting old. Then again, maybe a first full summer in forever is just what the doctor ordered.
The other debate with Hossa is who he's playing with. Some people think you need a truly gifted playmaking center to make Hossa bloom in full, like he had in Atlanta with Marc Savard or Detroit with Pavel Datsyuk and Henrik Zetterberg -- the last two times he cracked 40 goals. Others argue that a player of his stature and paycheck should be able to play with anyone. There's been a concerted effort again to give him the pivot man he may or may not require. It was thought it could be Marcus Kruger, they're going to try and shoehorn in Patrick Kane, and it may just be someone outside the organization. Sadly, there's no definitive answer here yet.
Either way, expect Hossa to break 30 goals again, if he can stay healthy. He should be this time. And there's still no sight like Hossa charging down either way on the rink, gobbling up an opponent and taking the puck away or the way he swats away challengers to his possession like an MMA -fighter to people trying to hit on his girlfriend. Through sheer power and smarts, Hossa can break 30. With a couple breaks, he could threaten 40 again.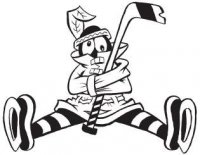 Sam Fels is the proprietor of The Committed Indian, an unofficial program for the Blackhawks. You may have seen him hocking the magazine outside the United Center at Gate 3. The program is also available for purchase online. Fels is a lifelong 'Hawks fan and he also writes for Second City Hockey .