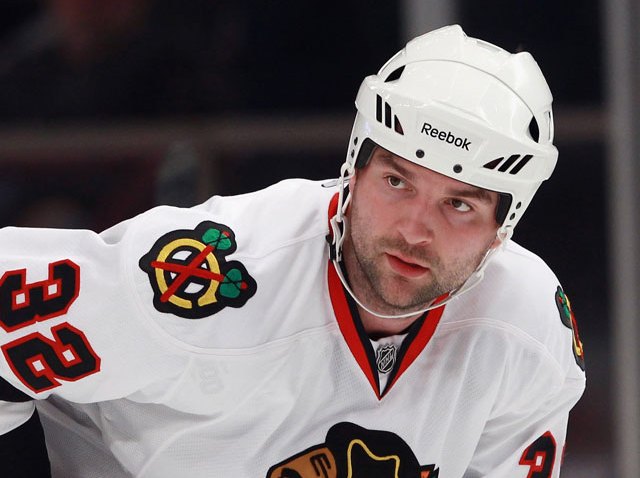 Well, I'd like to think this one should be easy to write.
After getting far too many looks at both forward and defense last year, all in two minute spurts, it seems fated that John Scott will only be a defenseman this year and sparingly at that. The forward corps has been bolsterd to the point that it is bursting at the seams. The defense has seven players ahead of him. It's going to take a fair amount of injuries for Scott to crack the lineup.
Or that's what most Hawks fans who don't get sidewalk scrapes on their knuckles would like to think. But the more likely scenario is that Scott will get a couple run outs, early in the year, against teams like St. Louis or Anaheim, teams that like to make the Hawks pay a price physically and may get out of hand. Will he help with that? Of course not. He'll skate three minutes and spend the other 57 yapping from the bench. But Coach Q has never hesitated to throw someone out there for "physical presence" even when that player didn't provide that trait or anything else. Matt Walker got far too much time in 2008-2009, as did Nick Boynton last year. But when the games really start to count in 2012, Q generally wises up and leaves his thug in the tool drawer.
Ideally, Scott would be spending the year in Rockford, where he's much more needed. An enforcer in the AHL is almost required, because it is filled with players trying to get noticed anyway they can -- either to get a call-up or just to hang on in professional hockey. So running young players is something that will happen far more often in the second-tier, as will take liberties with anyone willing. Scott could actually help protect some of the Hawks prospects down there, as Brandon Pirri, Jeremy Morin, Jimmy Hayes, Shawn Lalonde, Dylan Olsen and others don't need to be wasting their time concerning themselves with anything other than playing the game. And Kyle Beach is not someone who's capable of being an enforcer, and it would be a waste of his talents to make him.
Maybe it's more likely than I think. The Hawks only need to carry seven defensemen and then could carry two extra forwards. And I'm sure it's probably what GM Stan Bowman would prefer, as he probably never imagined Coach Q would try and use Scott so much.
Whatever Scott does, it won't impact what the Hawks achieve. And if it does, someone should get fired.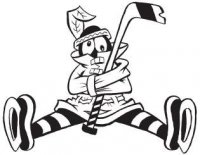 Sam Fels is the proprietor of The Committed Indian, an unofficial program for the Blackhawks. You may have seen him hocking the magazine outside the United Center at Gate 3. The program is also available for purchase online. Fels is a lifelong 'Hawks fan and he also writes for Second City Hockey .