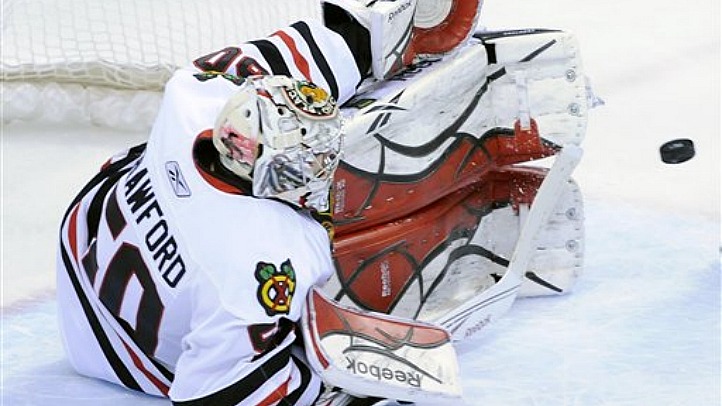 It seems weird to say, but this is the first time in four years the Hawks will enter a season with a clear-cut No. 1 goalie. The last time they tried this was in 2007, and it was Nikolai Khabibulin only because of his paycheck and the fact that no one else wanted to come here to challenge him.
This was also the season that Corey Crawford made his first appearance. So to find the last time the Hawks went into a season with a No. 1 goalie they could actually be confident in, well, let's say that "grunge" was still a relevant term.
Ah, but is Corey Crawford such a cinch that we needn't worry about what's backstopping the Hawks? I'd love to sit here and tell you that's the case, but I'd also love to tell you that mayonnaise makes you more attractive. But I only deal in full-truths.
The list of goalies who had a great rookie year and then flamed out their second year is a long one. Steve Mason in Columbus comes to mind. As does another Columbus goalie who Mason eventually replaced in Pascal Leclaire. Kari Lehtonen of Dallas is another, though he's rebounded somewhat. You could go back and find a whole lot of Andrew Raycrofts.
What separates Crawford is he's got more experience than those. What's that you say, how can a fellow rookie have more experience than other rookies? Think Sam has lost his ability to count? Well, the second part is true but what I'm referring to is that none of those goalies had five years of professional experience like Crow does. So the world of scouting reports and team adjustments shouldn't come as quite the shock. Secondly, none of them had the depth of defense in front of them that Crawford will, who should see at the very worst a competent player 1-6 protecting him.
That doesn't mean Crow doesn't come with some things to work on. First and foremost being his alignment with rushes coming from his left. More than a couple times last year Crawford left the top corner over his glove hand open like a yard sale, and teams are going to keep going back there until he closes it. The defense can help by not letting too many odd-mans against.
Crow could also use work on his puck-handling, but considering the way Duncan Keith and Nick Leddy, and possibly Sami Lepisto, want to wheel up the ice this isn't as big of an issue.
What Crawford has going for him is his style keeps his defense aware of where he'll be. He doesn't have to fly out to cut out angles as Cristobal Huet did, he doesn't have a high-wire act that panicks his defense like Marty Turco did. Because of this, everybody knows where possible rebounds might end up and can anticipate. A second season of playing together can only help.
The Hawks might not get the stellar numbers they got last season, but they shouldn't need them either. A return to Planet Useful from Duncan Keith should improve the defense and penalty kill greatly all by itself, without even mentioning the added depth that Steve Montador, Sean O'Donnell, and Sami Lepisto bring. We haven't even gotten to if Niklas Hjalmarsson bounces back. And there's still the idea that the offense may be better and more deep. Because the Hawks aren't asking Crow to improve upon a rookie campaign, they won't as disappointed as those teams that counted on one.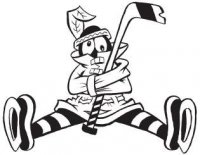 Sam Fels is the proprietor of The Committed Indian, an unofficial program for the Blackhawks. You may have seen him hocking the magazine outside the United Center at Gate 3. The program is also available for purchase online. Fels is a lifelong 'Hawks fan and he also writes for Second City Hockey .