As we move to the forwards in our season preview, we get to one of Chicago's favorite trends. That of the grindy white guy. You can currently see the love for that phenomenon in the case of one Dane Sanzenbacher, who the fans have warmed up-to even though he can't really do much other than be where he's positioned. But on the Bears, that's kind of a big deal.
Anyway, Smith was able to tap into this endless river of affection at the very tail end of last year. He came up for the last three games of the regular season, putting in a very nice goal in Detroit, and then coming up with three of them in the series against Vancouver -- including an OT winner. In between those, he showed boundless energy, a willingness to hit despite not being all that big, and a pretty high hockey IQ in the defensive zone.
However, all of these things led people to get carried away about Smith. Perhaps it speaks to the lack of depth on the Hawks among the forwards last year that Smith was able to look so good amongst them in a brief stint. But despite the few goals, Smith didn't demonstrate a huge scoring touch in Rockford last year. Sure 19 goals is a fine tally, but not that of a true marksman.
Where does that leave Smith? Well, no one has said this out loud but he's the leading candidate for the 4th line center spot. Quite frankly, there's no one on the roster who can do that role regularly. Marcus Kruger is not built for it, though they may try it. Jamal Mayers can play there, but that's not a long-term solution in the least. Smith played center at Rockford and at Boston College, so he's not unaccustomed to the role.
And Smith's game is perfectly tailored to the 4th line right now. The dude is built like a fire hydrant, so even though his frame is small it packs a punch and he can throw his weight around. He's defensively reliable, so he can help bail out say....oh I don't know, a Dan Carcillo who might get a little goofy. He can kill penalties, and can be a threat to pop in 10-15 goals. That's huge when you get that from your 4th line.
If he plays his way higher than that, all the better. But for right now tthere seems to be a niche perfecty carved out for him.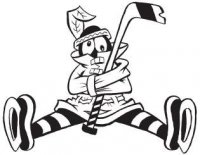 Sam Fels is the proprietor of The Committed Indian, an unofficial program for the Blackhawks. You may have seen him hocking the magazine outside the United Center at Gate 3. The program is also available for purchase online. Fels is a lifelong 'Hawks fan and he also writes for Second City Hockey .