There won't be an official announcement until 5pm, but having watched enough sports and injuries I can safely wager that we won't be seeing Troy Brouwer again this year (or in a Hawks uniform again, but more on that later). He apparently separated his shoulder pretty badly, and in my uninformed medical opinion, it looks like he may have suffered a collarbone problem. You could tell by the way he was dragging that arm around like uncooked pasta. We watched Martin Havlat do it enough to know.
The Hawks called up Ben Smith today to replace him on the roster. Smith had three games with the Hawks in November, and actually didn't look out of place on the fourth line. In 69 games in Rockford this year Smith has 19 goals and 12 assists, and was a -3. I would love to sit here and tell you that he'll get a fair amount of shifts on the fourth line tonight, hopefully proving he can at least be counted on to take 10 minutes, but I can't tell you that. In fact, I can't even tell you he'll dress.
Most likely, especially because it's the ornery Blues in town tonight, Coach Quenneville will dress John Scott. He'll play no more than five minutes, probably fight Cam Janssen for no reason other than those two can't figure out anything else to do, and that will be that. And the Hawks will have to skate a forward short.
And worse, they'll be something like two short, because rookie Marcus Kruger hasn't earned the coaches' trust. He only got seven minutes last night. It's not the kid's fault, he's been thrown in an impossible situation. But in this spot, on the second of back-to-back against a team that forces you to give it all to beat them, the Hawks cannot expect to skate their top tier talent for half the game and expect them to make it through alive. And they have wheel right back out there in two days. These players are here, and if they're here they have to help. If you believe in them enough to have them here, then you have to believe in them enough to think they can help you as well.
As for Brouwer, I don't know where he goes from here. He's a restricted free agent. I think he's a useful player (i.e. a big forward with skill who can score), which is something the Hawks aren't exactly dripping. In fact, he may be the only one right now. But he hasn't covered himself in glory these past couple months, and most of his points came when skating with Jonathon Toews and Patrick Kane. You could make the argument that any upright hippo could manage some points with those two.
So it'll come down to what Brouwer asks for (he did have 20 goals last year and 17 this year). He's certainly going to get a raise from his $700,000 this year. The Hawks will have more money to play with this summer, but have other needs to.
Is Jeremy Morin ready for those minutes? Will prospect Kyle Beach get the marbles out from between his ears and take it? Boston College grad Kevin Hayes? Brouwer just may have finished his Hawks career writhing in pain on the Montreal ice.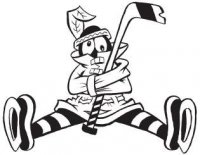 Sam Fels is the proprietor of The Committed Indian, an unofficial program for the Blackhawks. You may have seen him hocking the magazine outside the United Center at Gate 3. The program is also available for purchase online. Fels is a lifelong 'Hawks fan and he also writes for Second City Hockey .