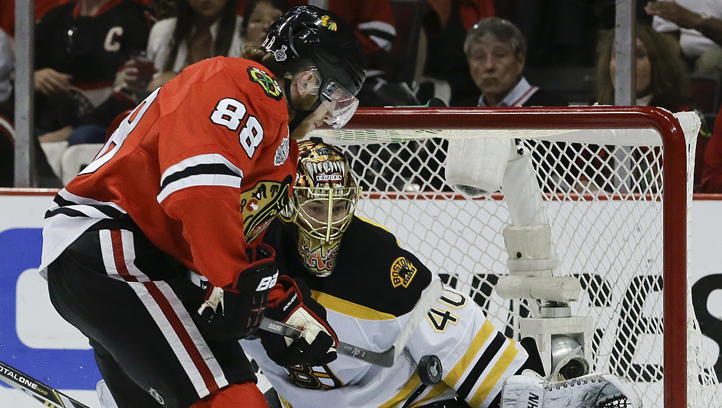 Patrick Kane scored twice for the Chicago Blackhawks, and Dave Bolland added an empty net tally as the Hawks knocked off the Boston Bruins 3-1 in Saturday's Game 5 of the Stanley Cup Final.
We'll have plenty of coverage in the next few days on NBC Chicago and Madhouse Enforcer, but for now, here are Saturday's Three Stars:
Third Star: Johnny Oduya
Oduya, who had a lackluster Game 4 despite the Blackhawks' victory, had a fantastic Game 5 for the Hawks.
In the end, he had three blocked shots and an assist in the contest, but it was his diving play to clear the puck out of the defensive zone late in the game that was arguably his best moment in the contest.
The play allowed the Hawks to reset, and along with some great defensive pressure the rest of the way, the Hawks ended up one win away from their second championship in four seasons.
Second Star: Patrick Sharp
Sharp, who is leading the Blackhawks in goals with 10 during the postseason, had another fantastic game on Saturday night.
It was his second line that was pushing the tempo for the Hawks early and often, playing hard-nosed hockey both on the defensive side of things with an aggressive forecheck in the offensive zone, and a speedy game on offense that sprang several rushes along with linemates Michal Handzus and Marian Hossa.
As for Sharp himself, he had three shots on goal during the game, and also won both of the faceoffs he had to take in the game. His all-around effort may not have resulted in any goals to add to his total, but without him, the Hawks would not have had the kind of first period push that they did in Game 5.
First Star: Patrick Kane
It's always easy to go with the guy who scored two goals in a game as first star, but Kane definitely earned the distinction with the way he carried himself in the game.
Both of Kane's goals came as a direct result of his evolving skillset. The first one came as he corralled a rebound given up by Boston goaltender Tuukka Rask, and wristed it into the net to give the Hawks a 1-0 lead.
The second tally came because Kane crashed the net hard on a shot attempt by Bryan Bickell, and he lifted the puck over Rask's shoulder and hit the water bottle on the top of the net to extend Chicago's lead.
Add to that the aggressive backchecking that he exhibited all game long, as well as the ability to evade Boston defenseman Zdeno Chara that he has shown in the past several games since being reunited with captain Jonathan Toews, and you can see why Kane has gone from afterthought to potential darkhorse Conn Smythe contender in the span of just a few games.