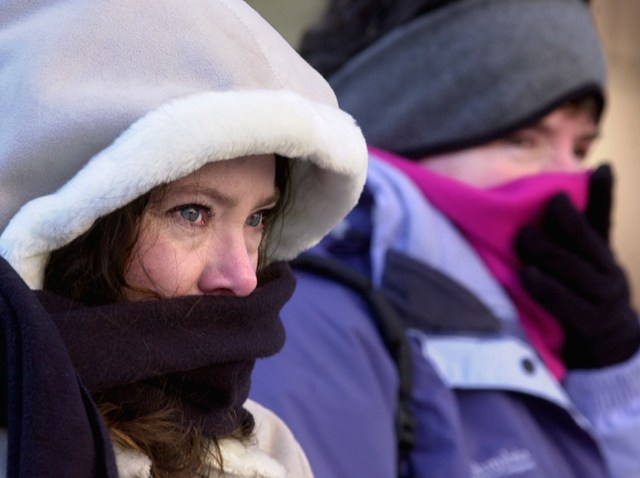 Let's hope you shoveled.

The low-pressure system that brought nearly two days of steady, light snowfall has moved out, but now we've got the cold to deal with. It's well below freezing, in fact, which could make the snow on the ground just a little bit harder to move around.

Midday Saturday only got to about 18 degrees and have been falling ever since. They'll bottom out at about 11 degrees overnight. Add wind chill, and we're looking at temperatures ranging from 5 to 15 below zero.

Sunday will be a little better, but still cold. The high is projected to be only 22 degrees.

The city on Friday reminded residents the importance of having heat and shelter when it's this cold. City ordinance mandates landlords keep buildings at 68 degrees during the day and 66 degrees at night. Tenants should call 311 if they have any problems.

"Now that we've experienced cold weather, I'm increasingly concerned that many families may not be able to pay their winter heating bills, or for repairs to their furnaces, and that the number of families who cannot pay them this year may be higher than ever because of this deep recession," Daley said, according to the Chicago Tribune. Grants may pay for utilities and repairs.

Homeless shelters around the city were preparing additional beds to handle those seeking respite.

The snowstorm that blanketed Chicagoland Thursday and Friday dumped a little less snow than predicted, but still wreaked havoc on mostly anyone trying to get around. Meteorologists had projected about 12 inches, but totals of 4-8 inches were reported around the metro area. O'Hare officially measured 8.2 inches.

Parts of Indiana and Michigan continue to get lake effect snow.
Check in with NBCChicago for up to the minute weather alerts, traffic alerts, airport delays, and school closings. Make sure you also check out the new-and-improved Google traffic maps, which provide roadway congestion information and let you plan (and save) your everyday routes.