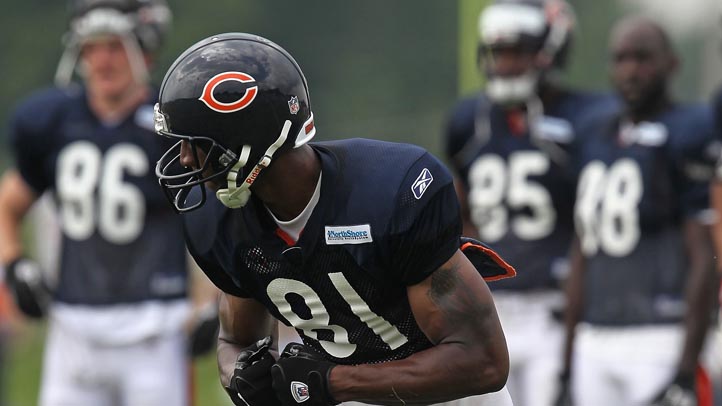 UPDATE: Hurd Sentenced to 15 Years

Back in 2011, Chicago Bears WR Sam Hurd was arrested on federal drug charges after a meeting with three federal agents at Morton's Steakhouse in Chicago. At that meeting, Hurd accepted a kilogram of cocaine from the agents, and according to the prosecution's case (bolstered by wiretaps), Hurd wanted to acquire a lot more cocaine and to sell the drug in Chicago.
Hurd pleaded guilty to possession of cocaine and marijuana with intent to distribute, and while he faces a minimum of 10 years for the crime, the punishment that he is looking at is far worse. Due to the quantities of drugs that Hurd was allegedly looking to move, the federal government has recommended that he be sentenced to life in prison without the possibility of parole.
How did Hurd go from wide receiver and special teams savant for the Bears to facing this kind of lengthy prison sentence? Michael McKnight, a Sports Illustrated contributor, has been investigating the Hurd case for nearly two years, and his longform article on the subject is a dazzling read.
In the piece, McKnight lays out the process by which the transformation from college standout at Northern Illinois University to star wide receiver for the Dallas Cowboys took place. He also goes into detail about Hurd's drug habits at the time he was with the Cowboys:
"Hurd spent the summer of 2009 working out, smoking joints the size of his middle finger, playing Call of Duty and chain-watching documentaries on TV, all the while weaning himself off the hydrocodone pills (he had taken them to relieve the pain of an ankle injury he sustained in 2008) and increasing his weed intake to Marleyan levels. By the time he regained full health, he had fallen out of love with the video games and movies. Only the weed remained."
In the second part of the article, McKnight lays out what happened at that ill-fated meeting at Morton's, as Hurd discussed a potential for a long-term relationship with the federal agents who were wearing wires and were waiting to arrest him as soon as he left the restaurant with a bag full of cocaine:
"Manuel (a federal informant who had set up the meeting with Hurd) almost certainly had not expected that the deal he told Alarcon (a special agent for Immigration and Customs Enforcement) about back in July would involve an NFL player, or that he himself would fly to Chicago with an undercover agent impersonating his nonexistent cousin Juan. But there Manuel was, splashing through Chicago in an SUV driven by Juan, who stopped a block west of Morton's so a local ICE agent could give him the white HAPPY BIRTHDAY gift bag. At the bottom of the bag, beneath the crumpled squares of decorative tissue paper, lay a brick-sized kilo of cocaine bound in shiny plastic wrap."
In order for the charges to stick to Hurd, the agents had to not only convince him to accept the bag, but also to either conduct a transaction or set up a transaction for a future date. Over the course of the conversation that ensued at the restaurant, Hurd did agree to buy the drugs from the agents, but he had a message for his family about why he actually took the bag:
""I was scared, first of all," Hurd says in an answer to the question that would scratch at the minds of his friends, fans, teammates and relatives. Why did he walk out of there with that kilo? "I thought these were real cartel dudes, and I was there by myself. I didn't have nobody with me. No gun---nothing. I thought giving somebody a kilo like that was what they normally did. I didn't want to disrespect them.""
Hurd was arrested as soon as he left the restaurant and got into his SUV. Surveillance video from outside the establishment clearly shows him carrying the bag and putting it in his car.
All of that is very bad for Hurd, but the severity of a life sentence is usually reserved for those who commit the crime, and as the rest of the piece details, Hurd's intention to commit the crime doesn't necessarily fit the bill for such a severe punishment:
""Sentence me for what I did," Hurd says. "Moving weed and getting caught up in this stupid cocaine thing with Toby—I am ready and eager to be sentenced fairly for those things. They have hurt my family and they will continue to hurt us. All this other stuff though…Don't you think if I really did that, I would have confessed and gotten my sentence knocked down as soon as they started talking about life in prison?""
The article goes into much greater detail about the new allegations that influenced the government's decision to seek a life sentence for Hurd, but one question carries through the entire narrative: should a man like Hurd who had no criminal record to speak of before this case be sentenced to life? Statutes against drug trafficking are designed to take dealers off the streets, but in Hurd's case, was he actually a dealer. The article goes to great length to say that the case is based on hypotheticals, and it seems extraordinary that Hurd could go away for life at only 28 years of age.
A sentence of some girth is certainly required, but to put an end to Hurd's life for all intents and purposes seems extreme, especially considering the number of legitimate questions about the veracity of those testifying against Hurd that the piece raises. Whatever the sentence may be, Hurd's fate will be decided on Wednesday, and Hurd will be added to the collection of athletes who had it all and decided that everything wasn't enough.