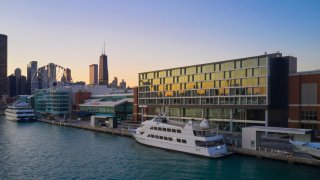 Sable at Navy Pier, a new hotel on Chicago's iconic lakefront, will open this week, pier officials announced Tuesday.
Opening Thursday, the hotel will house 223 rooms with views of the city skyline and Lake Michigan, situated in the heart of Navy Pier at 900 E. Grand Ave.
"I could not be more thrilled to be at the helm of such a unique and monumental hotel. The Sable will truly serve as an international destination in Chicago, considered one of the top cities in the world," Laurent Boisdron, general manager of Sable at Navy Pier, said. "We look forward to sharing the extraordinary views, design and excellent service that Curio Collection is known for and always achieves." 
The individual rooms are decorated in a nautical fashion resembling the inside of a ship's cabin in order to capture the pier's naval history, according to a release. Blue and blue-green colors are in each room, the hotel said, to pay homage to Lake Michigan.
The 4,300 square feet of meeting and event space at the hotel are equipped to host weddings, parties and functions overlooking Chicago and the lakefront. Because the structure is built in three towers, guests can book an entire wing of the hotel for an event, Sable said.
According to a release, the name "Sable" pays tribute to the World War II vessel. During the war, Chicago's Navy Pier served as a training center for new recruits to the U.S. Navy and homeport for USS Sable.
"Today, Lake Michigan surrounding Navy Pier is said to host over 143 aircraft assemblages that still remain within its depth, representing the largest and most preserved groups of U.S. Navy sunken historic aircraft in the world," a release said.
Sable at Navy Pier is part of Hilton Honors, meaning members will have access to related benefits when booking at the new hotel, officials said.
Navy Pier closed after Labor Day as the iconic Chicago attraction faced restrictions and budget shortfalls during the coronavirus pandemic.
The pier said they "anticipate reopening" in spring of 2021, but has not released an official date. The closure aimed to "limit the financial burden and impact of the ongoing coronavirus pandemic on the organization."