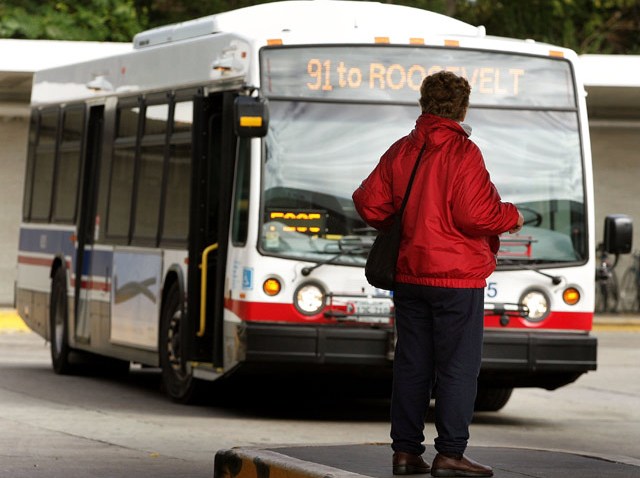 Free fixed route rides programs for seniors and people with disabilities cost northeastern Illinois' transit system between $37.7 million and $116.2 million in annual revenue loss in 2009, a new-released study commissioned by the Regional Transportation Authority has found.

The study, conducted by the Urban Transportation Center at the University of Illinois at Chicago, also found that more than a quarter of the 426,600 seniors who took advantage of the free rides program had annual incomes of more than $55,000, a release from the RTA said.

The low end of the range represents the annual loss assuming that all current riders were previously using the reduced fare program, while the higher end of the range represents the losses assuming they were paying the full fare, according to the release.

The study did not assess what would happen if the program were to be discontinued in the future.

Currently, the numbers of seniors enrolled in the nearly three-year-old free rides program totals over 426,600. Another 43,250 people with disabilities are registered in the free rides program that became law in October of 2008.

Regarding the long term impact of these programs, the RTA system would lose between $54.9 million and $162.4 million with these programs in place assuming a 10 percent increase in fares by 2030 and forecasted population increases, according the report.

Comprehensive surveys throughout the six-county region showed 44 percent of seniors did not have a reduced fare card prior to the program. Once the free rides programs became available, many people who had been previously eligible for discounted fare, but had not registered, were registering for the free benefit, the release said.

Thirty-three percent of survey respondents had incomes less than $22,000 a year, while 28 percent maintained annual incomes above $55,000, according to the release.

Since the program's inception, seniors and people with disabilities were provided with 77.6 million rides on the RTA system making up 6.9 percent of CTA's, 3.8 percent of Metra's, and 8.2 percent of Pace's total ridership. As for ridership frequency for seniors, survey results indicated that seniors are riding at all times during the day with only a minor decrease in the rush hour period.

The RTA says the results of the study will provide important information for members of the Illinois General Assembly to better inform decisions and help gain a greater understanding of the programs' impacts.
Copyright CHIST - SunTimes