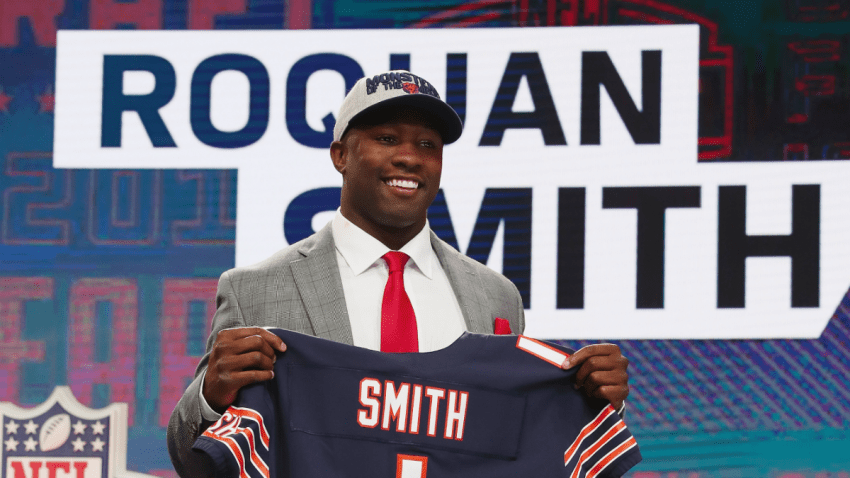 Chicago Bears linebacker Roquan Smith appreciated the chance to display his speed on the field Friday at rookie minicamp.
At least for a while, it let him leave behind an unwanted distraction. A man was arrested Thursday for breaking into Smith's car at the University of Georgia and taking several items, including a Bears-issued iPad containing a playbook.
"Everything happens for a reason," Smith said. "I learned from it, I'm just grateful of the police in Athens and also in Summerville for doing what they did."
Smith, drafted No. 8 overall, reported several items taken from his car over the weekend including the iPad and jerseys from the Rose Bowl and national championship game.
According to Athens-Clarke County police, Georgia student Landyn Shane Durham was charged Thursday with felony suspicion of entering an automobile in relation to the incident. Although the iPad wasn't recovered, the Bears were able to wipe out the information on it.
Asked if the team issued him a new iPad, Smith added, "I should be having one pretty soon."
Smith would have rather been in the spotlight for his play and not for leaving his iPad/playbook in a car.
"Oh well things change, you just live and you learn and you just have to grow," he said. "I feel like it's all just part of growing up."
It created an unexpected situation for new Bears coach Matt Nagy to address at rookie camp.
"It's a wakeup call to all the guys that you always want to take care of your stuff as much as you can," Nagy said. "Some stuff is out of your control. I thought he did a great job of handling the situation and thanking people for helping him, and it's unfortunately a part of life but he handled it the right way. He's a great kid and hopefully it doesn't happen again."
On the field, Smith's introduction to pro football has been what he anticipated.
"It's ball," Smith said. "There's no school and everything like that. It's just pretty much ball. I actually love it. You just focus on ball. You're just here with your teammates. And you can just be the best possible you can be.
"You don't have many distractions, unless you have some."
The Bears used Smith in practice at left inside linebacker, a spot where Jerrell Freeman played before being released in the offseason. Smith will be competing for a starting spot with third-year linebacker Nick Kwiatkoski.
The defensive emphasis is on speed, and it's an area the Bears bolstered in the draft with Smith and also his new roommate, fourth-round linebacker Joel Iyiegbuniwe of Western Kentucky.
The Butkus Award winner last year, Smith didn't come in talking about being a starter or Pro Bowl player. He said he'll play special teams if asked.
"Just because you're the No. 8 pick in the draft doesn't mean you just walk into this thing," Nagy said. "You've got to earn it. We've made that clear to everybody on this team.
"Competition is great. He's going to be a great teammate, he's going to ask questions and he's going to realize that it does need to be earned."
Smith initially enjoyed what he saw of defensive coordinator Vic Fangio's scheme.
"He blitzes backers, he puts them in the best possible situation to make plays," Smith said. "Just those two things, they alone are pretty good."
Nagy also left an impression on rookies.
"The energy is the big thing you notice," Iyiegbuniwe said. "He hates pessimistic people, loves to be optimistic, good vibes, and all the players will tell you that's what they get from him."
Iyiegbuniwe was one of six draft picks to sign just before the camp, leaving only Smith unsigned among draft picks.
NOTES: The Bears looked at second-round pick James Daniels of Iowa at both guard and center. Second-round wide receiver Anthony Miller of Memphis participated on a limited basis while coming back from a foot injury. ... There are 70 players in the camp, including undrafted free agents, tryout participants and veteran invitees like former Georgia quarterback Aaron Murray. ... As a former participant in such a camp, Nagy gave some advice to his young players. "So the biggest thing is to have no regrets," Nagy said. "For all of these guys when they're out here, I don't care if you were drafted, I don't care if you were a free agent. When you're out here these next three days leave it all out there on the field."
Copyright AP - Associated Press