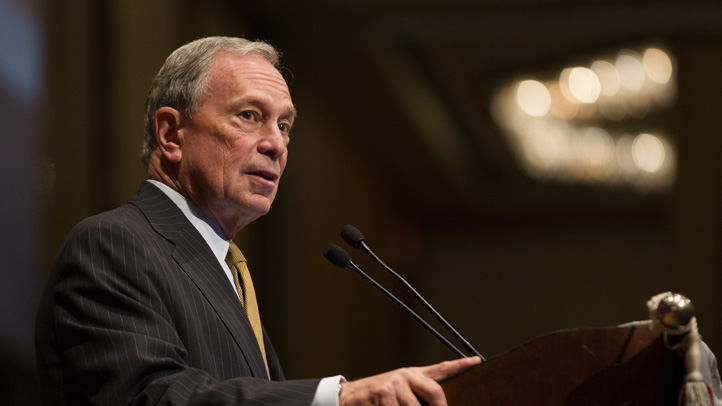 Rockford Mayor Larry Morrissey has cut his ties to New York Mayor Michael Bloomberg's Mayors Against Illegal Guns, saying the group has become too focused on banning assault weapons, rather than keeping guns out of the hands of criminals.
Morrissey made his announcement at a Rockford Tea Party meeting, where it was, as you might expect, greeted with a huge round of applause.
I've dropped out of a group called Mayors Against Illegal Guns. The reason why I joined the group in the first place is that I took the aim to be what it said -- against illegal guns, a challenge we see day in and day out in the city of Rockford. It is not dealing primarily with assault weapons or machine guns. It's dealing with a typical handgun. All of those typical weapons are usually in the hands of people who are prohibited from having them…The reason I joined the group is that the original focus, I thought, was going to be focusing on better enforcement of existing laws and, if anything, we had talked about not getting involved with things like banning assault weapons and banning magazine clips. As the original mission was swayed, I decided that it was no longer in line with my beliefs.
Morrissey also said he would apply for a conceal carry permit, citing death threats against himself and his family:
Yes, I do support conceal carry. I plan on myself getting a conceal carry permit. I plan on myself getting a conceal carry permit once they become available in the state of Illinois. Any doubt that I might have had about my opinions about conceal carry when I first came into office changed quickly as I became familiar with the types of crimes we're dealing with, and the focus should not be against law-abiding citizens. We should be focusing our enforcement on folks who have no right to carry a gun concealed or otherwise.
Despite Morrissey's defection, 27 Illinois mayors -- including our own Rahm Emanuel -- still belong to the 950-member group:
Joel Fritzler, Carbondale
Rahm Emanuel, Chicago
John A. Rey, DeKalb
Harriet Rosenthal, Deerfield
Teresa Kernc, Diamond
Thomas A. Brown, East Hazel Crest
Alvin L. Parks Jr., East St. Louis
David J. Kaptain, Elgin
Elizabeth Tisdahl, Evanston
Michael Howley, Hickory Hills
Nancy R. Rotering, Highland Park
Joseph T. Tamburino, Hillside
Gerald C. Turry, Lincolnwood
Joseph J. Broda, Lisle
Eugene "Gene" Williams, Lynwood
Ronald M. Serpico, Melrose Park
Christopher Koos, Normal
Leon Rockingham, North Chicago
Kyle R. Hastings, Orland Hills
Robert S. Straz, Palos Heights
Gerald R. Bennett, Palos Hills
Greg Marston, Pingree Grove
George Van Dusen, Skokie
Don A. DeGraff, South Holland
Beniamino Mazzulla, Stone Park
Laurel Lunt Prussing, Urbana
Sam D. Pulia, Westchester