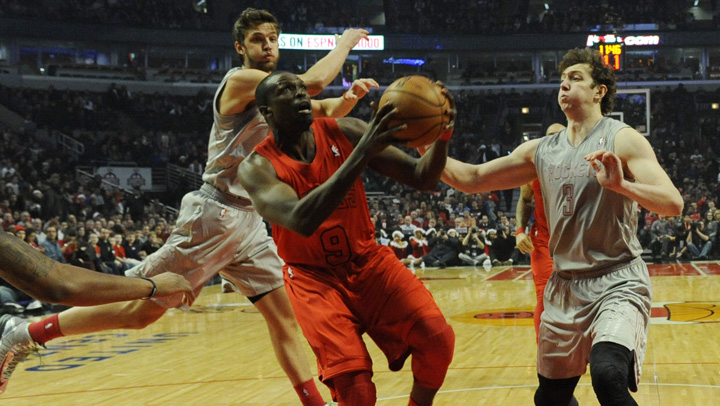 James Harden scored 26 points and Jeremy Lin added 20 points and 11 assists to lead Houston to a 120-97 win over the Chicago Bulls.

Omer Asik returned to the United Center and had a double-double with 20 points and 18 rebounds in his first trip back to Chicago since signing with the Rockets in the offseason.

The Rockets starters all scored in double figures. Chandler Parsons added 23 points and Marcus Morris had 10.

Houston has won six of seven.

The Rockets had been just 3-7 on the road entering Tuesday, but a strong second quarter turned the holiday matchup into a blowout. The Rockets outscored the Bulls 31-19 in the period to break the game open.

Nate Robinson led the Bulls with 27 points, and Marco Belinelli scored 15.

Houston entered the game tops in the league in scoring at 105.4 points per game, while Chicago allowed the third-fewest in the league at 91.

Houston, though, was not slowed at all.

The Rockets pushed the pace and shot well against Chicago's defense. The Rockets outscored the Bulls 66-32 in the paint and 31-8 in transition. Their largest lead was 35 points.

The 120 points allowed and 23-point loss were season-worsts for the Bulls.

The Turkish-born Asik spent his first two years in the NBA with Chicago. He signed a three-year, $25 million offer sheet with the Rockets this summer that the Bulls did not match. He entered the game averaging 10.6 points and 11.4 rebounds, and put together perhaps his best game of the season.

Asik received a round of applause when he was introduced at the beginning of the game, but the hospitality didn't last. He quickly heard jeers when he stepped to the free throw line early in the first quarter.

Harden, fourth in the league in scoring, followed up two strong performances — 37 points against Detroit and 45 against Atlanta — with another strong game. He was 7 for 13 from the field and 11 for 13 from the free throw line.

Houston improved to 11-2 against the Eastern Conference.

The Bulls had won nine of 13 to climb into first place in the Eastern Conference's Central Division, but were flat for the second consecutive game. Chicago lost 92-75 Saturday in Atlanta.

Boos came down from the United Center crowd when Asik scored to make it 82-51 in the third quarter.

Chicago cut the Houston lead to 100-85 with just under eight minutes to play in the fourth quarter, but a 6-0 Rockets' run ended the rally.
Copyright AP - Associated Press