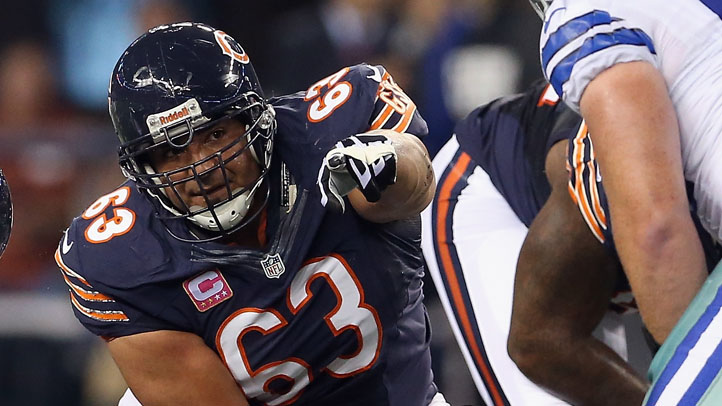 The Chicago Bears may not be in New York City for the Super Bowl this weekend, but one of the team's veteran stalwarts will be in the Big Apple.
That's because center Roberto Garza, who will become a free agent if the Bears don't re-sign him before March 11, will be doing sideline reporting work for Fox Deportes in the first ever Spanish-language telecast of the Super Bowl.
"It's a great opportunity for me to cover the game for Fox Deportes," Garza told the Bears' website on Saturday. "It's my first time doing it, so there will be some bumps and bruises. But I'm looking forward to talking about what's going on on the field and in the trenches and some of the things that I do in games. I think it will be fun. I'm looking forward to a great game."
Starting with FOX DEPORTES pic.twitter.com/ka3LqNbDlV — Roberto Garza (@Roberto_Garza63) January 31, 2014
Garza, a 13-year veteran, anchored a new-look line this season when the Bears acquired Jermon Bushrod through free agency and drafted both Kyle Long and Jordan Mills. All five members of the Bears' offensive line started all 16 games this season, and were tied for fourth best in the NFL in sacks-allowed after wallowing near the bottom of the standings for several years.
Garza is the only free agent in limbo on the offensive line for the Bears, as Matt Slauson signed an extension just a few days after the season ended. Whether or not he is back with the Bears next season though, Garza is clearly preparing himself for life after football, and if his interviews with Chicago media over the years are any indication, he could have a bright future as a broadcaster.