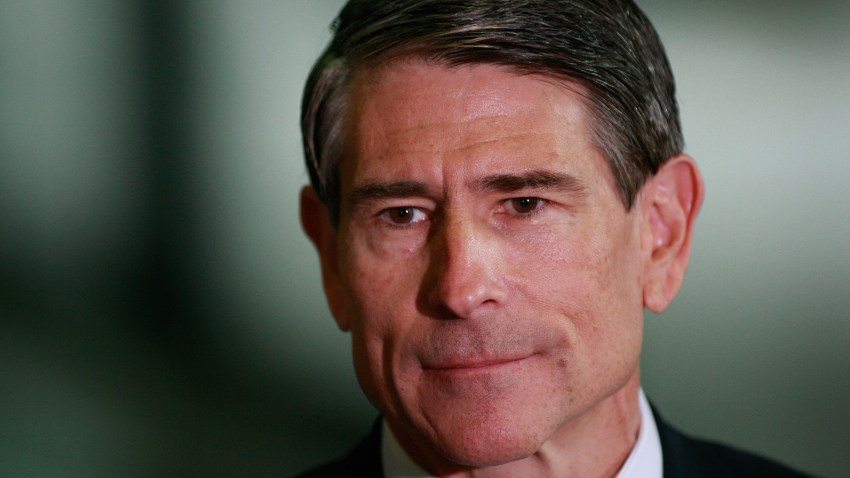 Rebuffed in his efforts to gain a new trial, or at least, a new sentence for the many crimes a jury says he committed, Rod Blagojevich remains in a federal prison in Englewood, Colorado, as his lawyers scramble to work on a legal Plan B.
But did the appellate court get all of its facts straight?
Among the most scathing passages in the 23-page opinion, Judge Frank Easterbrook noted that Blagojevich was rebuffed in his initial efforts, to exchange a senate seat appointment for a cabinet position, or possibly even a cushy job at a non-profit blessed by the new president.
"Blagojevich then turned to supporters of Rep. Jesse Jackson Jr.," Easterbrook wrote, "offering the appointment in exchange for a $1.5 million campaign contribution."
The problem is, that's not what happened. And Blagojevich's brother was furious when he read the account in the court's ruling.
"That is just flat out not true," says Robert Blagojevich, the former governor's brother. "That is an altered reality to what I know and what I experienced."
At the time, Blagojevich was working as a fundraiser on his brother's re-election campaign. He notes it was he, not the governor, who was approached by emissaries of then-congressman Jackson, offering fundraising in exchange for appointing Jackson to the vacant Senate seat. Indeed, in one wiretap, the former governor is heard discounting the possibility.
"Unbelievable, isn't it?" Blagojevich says. "Then I–[or] we–were approached, pay to play. That you know, he'd raise me $500,000, an emissary came. Then the other guy would raise a million, if I made him a senator!"
At one point during the former governor's second trial, the origins of the offer were described in a meeting at a Loop restaurant in October of 2008.
Indian businessman Rajinder Bedi, the former chief of the Department of Commerce and Economic Opportunity, said that he was present at the meeting at the 312 Chicago Restaurant on LaSalle Street, with Jackson and fellow businessman Raghu Nayak.
He said Nayak asked him to send word to Blagojevich that he would raise a million dollars for the governor, if he would give the senate job to Jackson.
But Bedi stated that when he passed the offer to Robert Blagojevich, it was rejected out of hand.
Jackson and Rod Blagojevich were bitter political enemies, Blagojevich feeling that the congressman had betrayed him over an earlier endorsement. But federal wiretaps indicated that later, with other avenues stalling, Blagojevich began seriously entertaining the appointment of Jackson to the vacant senate seat.
In a phone call December 4, 2008, he told his brother that he was "elevating" Jackson on his list of candidates.
"If in fact this is possible, then some of the stuff's gotta start happening now," Blagojevich told his brother. "If there's tangible political support like you've said, start showing us now."
Blagojevich told his brother to reach out to the Jackson camp, but to assume "the whole world's listening."
As it turned out, the FBI was listening. And when he learned that, Blagojevich instructed his brother to cease all contacts with Jackson and his supporters.
At the time the scheme was described in the Blagojevich indictment, Jackson insisted it was not true.
"I never sent a message or an emissary to the governor to make an offer, plead my case, or propose a deal about a U.S. Senate seat," Jackson said, shortly after Blagojevich's December 2008 arrest.
Some versions of the story put the fundraising figure as high as $6 million. Whatever the number, Robert Blagojevich has long maintained that Jackson got a pass on the alleged overture, so much so that he told his story to the House Ethics Committee before the congressman resigned in disgrace amidst his own scandals.
But back to the appeal. Easterbrook said it was right for trial judge James Zagel to include the alleged $1.5 million offer, when he was calculating the potential loss to the taxpayers from the former governor's alleged misdeeds.
"The $1.5 million figure did not come out of a hat," Easterbrook wrote. "It was a number discussed in the recordings. That nothing came out of these overtures, does not affect the calculation of loss…because it is an amount Blagojevich intended to receive from criminal conduct, even though not a sum anyone else turned out to be willing (or able) to pay."
But the fact remains, that on the very day Blagojevich spoke to his brother about Jackson, he was speaking to other advisors about other candidates, among them Lisa Madigan and former school chief Gery Chico.
Robert Blagojevich says the convoluted telling of the facts in the appellate decision, are just one example that the court reached a flawed conclusion. And he said he is not optimistic that the former governor will now receive a reduced sentence when his case is returned to the trial court.
"I'm very cynical with regard to the whole system," he said. "I'm also jaundiced when it comes to the key players in this drama, especially Judge Zagel. So I'm not hopeful for Rod to get any measure of fairness from him!"