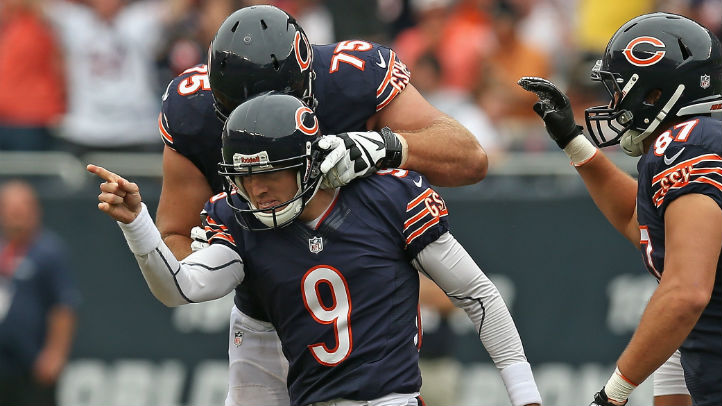 After the Chicago Bears wrapped up practice on Friday afternoon, the team revealed it had signed kicker Robbie Gould to a new four-year contract extension.
Gould, who was slated to become a free agent after the season, has been with the Bears ever since he signed with the team as a free agent in 2005. He had been working on a construction crew after his collegiate career at Penn State had come to an end, and so there really weren't any big expectations for him as he came to Chicago.
Of course, Gould has ended up going on to become one of the greatest kickers in league history. For his career, Gould has made 86 percent of his field goal attempts, and he tied Tony Zendejas' record for most consecutive field goals made from 50 yards or more with 11 straight kicks.

He is currently the league's third most accurate kicker in history, trailing only Mike Vanderjagt (86.47 percent) and Nate Kaeding (86.19 percent) on that list.
Gould was one of the players whose future was a subject of debate for the Bears as the season wore on. The team is going to face a weird situation with nearly half of its roster hitting free agency after the season, and Gould was one of the bigger names on that list, along with Jay Cutler and Charles Tillman, among others.
In his press conference following the signing, Gould didn't mince words when he discussed what he wants to accomplish during the next four years with the Bears:
#Bears @robbiegould09 thought "I'm going to be the best to play the game & be the best to leave the game" pic.twitter.com/3KbdxoEswo — Peggy Kusinski (@peggykusinski) December 27, 2013
Although financial terms of the deal were not disclosed by the team, Gould did seem to hint that he may have taken a bit less money in order to help the Bears to restructure the team in the upcoming offseason:
Robbie: "If the deal that I struck leaves a little extra money to keep some other guys around, I'm all for it." — Adam Oestmann (@adamspeaks) December 27, 2013
We'll have more on this story as it develops.