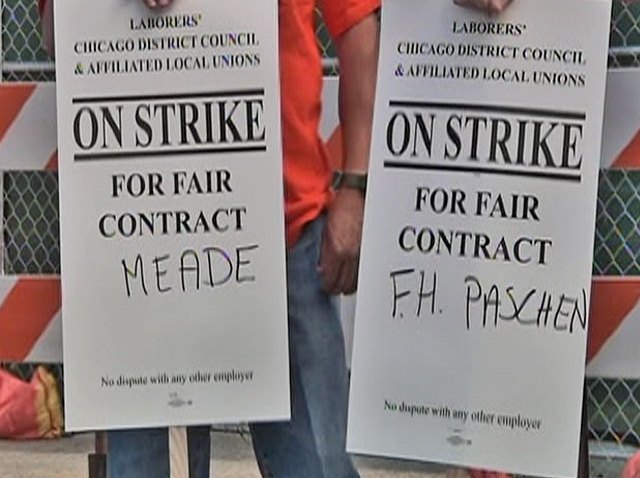 There's little hope the impasse that has halted work on road construction projects throughout a 10-county area will be resolved before the holiday weekend.

Members of two striking highway workers and the contractors' bargaining association had initially agreed to resume negotiations on July 7. The unions on Thursday said they asked to have a meeting before then in hopes of avoiding a prolonged work stoppage.

The answer from the contractors: no. They'll meet on July 7 and not a day before.

When the head of Operating Engineers Local 150 got the response, he asked aloud, "Why wait?"

That got a response from the Mid-America Regional Bargaining Association: "Why strike?"

Fed up with working without a contract for a month and upset rising health care costs, two major highway workers unions began their strike Thursday morning after negotiations with contractors fell through.

The Illinois Department of Transportation cleared most roads of lane closures, signage and gear in preparation for the strike by the Laborers District Council of Chicago and the Local 150 of the International Union of Operating Engineers.

The workers' equipment is parked out of the way on road shoulders. That led to a fairly stress-free commute during the strike's first day. Cars were cruising, lanes were open and nary a construction worker could be seen.
But officials warn that a prolonged strike could lead to delays and disruptions. And the threat of other unions -- like carpenters and cement masons -- joining in the strike is cause for concern.