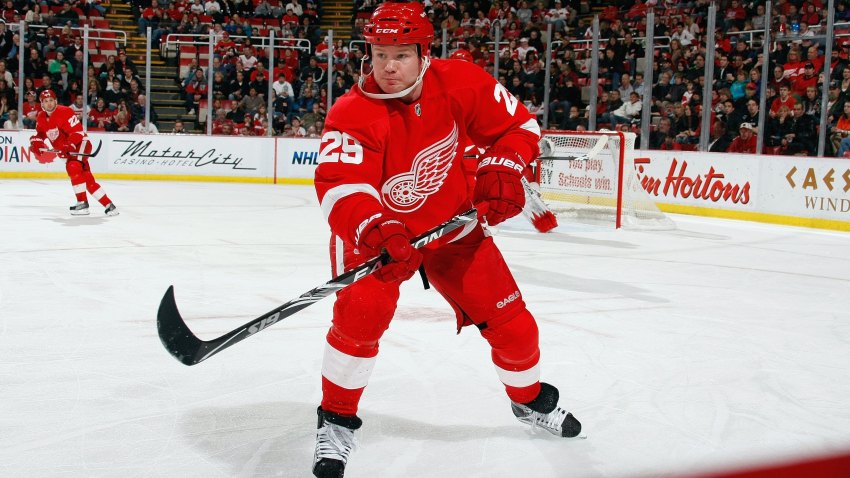 Just what a Hawks fan needs when he's already stressed out about the playoff chase and the injury list: a three-hour medieval rack torture that is a game against the Red Wings.

I've said before that I try and remain as rational I can as a fan -- and even then I'm not even close to a functioning human being -- but games against Detroit are simply the worst.

My blood-lust boils over, I'm generally physically ill for most of the game and my distaste for all things Winged Wheel boils well past the "unreasonable category" mark. God, I want this to be over already.
But the Wings come into tonight banged up as well.

Pavel Datsyuk will miss another game, and starting goaltender Jimmy Howard isn't playing after hurting himself Saturday against Toronto. Johan Franzen will return to the lineup, but that's not the danger it once was, as he's drawn a lot of Wings fans' ire for some indifferent play this season. Franzen should be an unholy weapon of size and skill, scoring 40 every year, but health and passion have been issues for him.
Henrik Zetterberg is still here, though, and probably will be deployed to counteract Jonathan Toews. Fights between the two of them for the puck could descend into a knife fight, such is both of their compete levels. Beyond that, without Datsyuk, you could argue the Wings are top heavy like the Hawks.

Valtteri Filppula is a wonderful player on the second line, but he's not Datsyuk. Mike Modano was finished two years ago. Darren Helm and Justin Abdelkader, while useful, haven't become the legends that redefine the sport like every media outlet was ready to declare them.
Prisoner #5834, or as he's otherwise known, Todd Bertuzzi, has had an impressive season until the games started to get tight. He's got three points in his last 11 games, and he hasn't done anything against the Hawks this year. He just can't keep up. He's still a liability in his own zone, and he's still very likely to take a selfish and dumb penalty when he gets frustrated.
I get killed all the time for this, but I don't buy this defense either. Obviously, there's Mt. Olympus resident Nicklas Lidstrom still back there, and one can't criticize him in the least. He can dominate half the game on occasion. But beyond that? Brian Rafalski has started to show his age, and Niklas Kronwall is overrated by a factor of 12 and often gets himself out of position running for the big hit that gets him on highlight shows and make the media covering him weak at the knees. Ruslan Salei and Jonathan Ericsson are simply bad. And without Howard and having to start Joey MacDonald, they won't get bailed out, or at least you hope.
And there's also the matter that the last two times these teams tangled, the Hawks ran them over, once without Kane and Hossa. The Wings play a style that fits into the Hawks' hands. Even with Franzen and Holmstrom, they don't punish the smallish Hawks D. They don't want to bog things down and leave the Hawks forwards with lots of space. The Wings get theirs too, and can kill you with it, but so far haven't. Hopefully that's the way it plays tonight, but the smart money says the Wings are pretty fed up with a combined score of 8-2 the last two match-ups, and we'll get their best tonight.
I'll be hiding behind the couch.