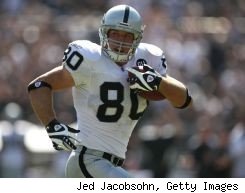 As the free agent signing period looms in the distance, the Chicago Bears will be looking to sign several players in their organization to new contracts, but things may have just gotten a bit more complicated in dealing with tight end Zach Miller.
That's because Miller, who hauled in 34 receptions for 439 yards and five touchdowns for the Bears in a breakout 2015 season, is looking for a new contract that will pay him $5 million per season, according to Brad Biggs of the Chicago Tribune.
That money wouldn't be an issue for the Bears in terms of their salary cap, since they're sitting on the second-most cap space in the NFL, but the problem is that Miller is seeking a big pay-bump while the team is dealing with another tight end with contract issues. Martellus Bennett, who was knocked out late in the season with an injury, is set to make $5.1 million next season, and there's a chance the Bears could trade or cut him rather than give him the new contract that he's been reportedly seeking.
Another issue that could cause the Bears some concern is Miller's age. He is 31 years old, and will turn 32 years old during the 2016 season. Add to that mix the injury issues that have plagued him for several seasons (he didn't appear at all during the 2012, 2013, or 2014 seasons thanks to a variety of ailments), and there's genuine reason to believe that the Bears will allow him to enter the free agent market rather than re-sign him at that price.