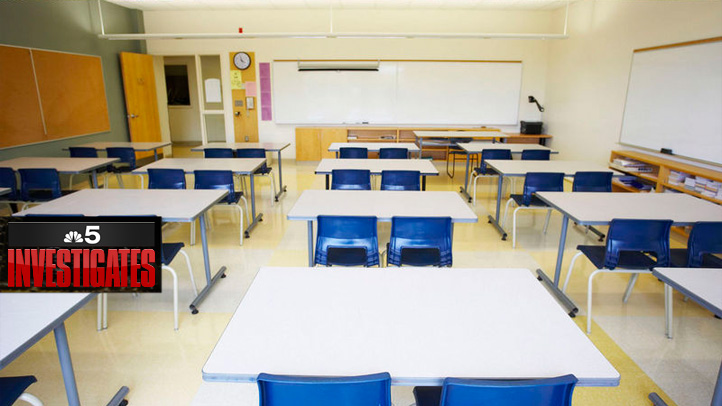 NBC 5 Investigates has analyzed data released by a Washington D.C.-based research group and found dozens of facilities across the Chicago area that store or use toxic chemicals which - if released in an accidental leak or explosion - could directly affect hundreds of thousands of schoolchildren throughout the city and suburbs.

Many local schools are in the "vulnerability zones" of four, five and even up to six area facilities. But there has been little way for any family to find out if their child's school is in one of these zones -- until now.

On the evening of April 17, 2013, a massive blast at a fertilizer company in West, Texas, killed 15 people and injured 160 others. The explosion shattered windows seven miles away, and damaged or destroyed 150 buildings, including three schools. One of those schools -- West Middle School -- sat right next to the company.

According to a new report by the Washington, D.C.-based Center for Effective Government, schoolchildren all around the country are attending classes every day in buildings located in "vulnerability zones." Those are areas -- defined by companies that make or store toxic chemicals -- that could be in danger if the company ever suffered a catastrophic accident, leak, or explosion - similar to the one in West.

[[277709271, L]]
[[277709371, L]]
[[277709471, L]]

CEG has released an interactive map where you can search for your school or daycare center - even explore your home and your neighborhood - to find the facilities which have stated that you could be exposed to their toxic chemicals in the event of a major accident. The facilities range from chemical companies to water-purification plants to storage sites, and the range of potentially-affected schools and neighborhoods creates a dizzying map of vulnerability zones that cover a wide swath of Chicago, and suburbs ranging from Warrenville to the west; Frankfort to the south, and Hobart, IN, to the east.

Take PVS Chemical Solutions, Inc., a chemical manufacturer located on Chicago's far south side. PVS - like every company that stores or uses dangerous and toxic chemicals -- must report those substances to the U.S. Environmental Protection Agency, with details on amounts, emergency plans, and how much of the surrounding area could possibly be affected if one of the chemicals were accidentally released in a major catastrophe.

[[203516351, C]]

According to its most recent EPA report made available to CEG, PVS stores large amounts of three different toxic chemicals at its site on Carondolet Avenue: 1.5 million pounds of sulfur dioxide (SO2); nearly a million pounds of Oleum; and 55,000 pounds of ammonia. According to CEG research, PVS tells the EPA that its "vulnerability zone" - the surrounding area that could be in danger in the event of a major accident -- is 25 miles.

Just half a mile from the PVS chemical plant is Virgil I. Grissom Elementary School with 328 schoolchildren. A mile-and-a-half away are both George Washington High School and George Washington Elementary School, with a total of 2,342 schoolchildren. Those are the three closest schools. But, according to the CEG research and mapping, there are a total of 1,347 schools in the Chicago area within PVS's 25-mile "vulnerability zone," with a total of more than 600,000 local students who could potentially be affected in the event of a catastrophic leak or explosion at PVS.

If those children were exposed to SO2,, they could exacerbate their asthma or struggle to breathe, according to the Centers for Disease Control. Exposure to Oleum (fuming sulfuric acid) can cause coughing, gagging, chest pain, fluid in the lungs, burning sensations and possible suffocation, and the mist also can severely irritate a child's eyes and skin. And ammonia can cause burning in the nose, throat and respiratory tract (if inhaled), and (on contact) burns and eye injuries.

Another toxic chemical - required-reporting to the EPA - is highly-concentrated hydrofluoric acid. In the event of a massive leak or explosion, "even small splashes of high-concentration hydrogen fluoride products on the skin can be fatal," according to the CDC. According to EPA records and the CEG report, one facility that houses hydrofluoric acid is PDV Midwest Refining, a petroleum refinery in southwest suburban Lemont. The CEG map reveals 702 schools and a total of nearly 350,000 students that could be affected by a catastrophic accident at PDV, according to documents the company filed with the EPA.

Another example: A bleach-manufacturer in west-suburban Willow Springs, owned by Rowell Chemical, stores more than 2 million pounds of chlorine gas, which can cause anything from wheezing and coughing to pulmonary edema if inhaled in large amounts. In its report, CEG provides the company's documents submitted to the EPA and says the manufacturer has determined that its "vulnerability zone" is a 14-mile radius around the facility. CEG determined that 396 schools, with more than 180,000 students, are within that radius and could be affected if a chemical disaster were to occur at that plant.

It's important to note that every one of these local companies has filed extensive safety plans with the EPA, which can be accessed on the CEG interactive map by clicking the location of the company, then clicking on the link for more information. Those filings also show that most facilities have never had any kind of mishap. The filings also detail a variety of emergency scenarios and prevention plans designed to make sure that things remain safe both inside outside each facility.

In a written statement, the EPA says the information filed by these companies - and used by CEG to create its report - "is designed to protect against worst-case scenarios."

And the American Chemistry Council has released a statement in response to the CEG report, saying in part: "There has been great progress in enhancing the safety and security of chemical facilities across the nation." It points to its safety program called Responsible Care, and says that companies in that program "have reduced the number of incidents that resulted in a product spill, fire, explosion or injury by 55 percent since 1995."

Still, for parents of children in schools such as Ideal Elementary School in Countryside, the information provided by the CEG mapping can be eye-opening: Ideal is located within the "vulnerability zones" of six separate facilities with toxic chemicals - including PVS and PDV; the facility in Willow Springs; another facility in Lemont; and facilities in Lyons and Argo. The same holds true for 14 other schools in the area, according to the interactive map - they're all within the reach of six separate facilities, in the event of a major accident. And they're surrounded by hundreds more schools, all located in the vulnerability zones of four or five local toxic-chemical facilities.

The entire CEG report can be read or downloaded at the organization's website.