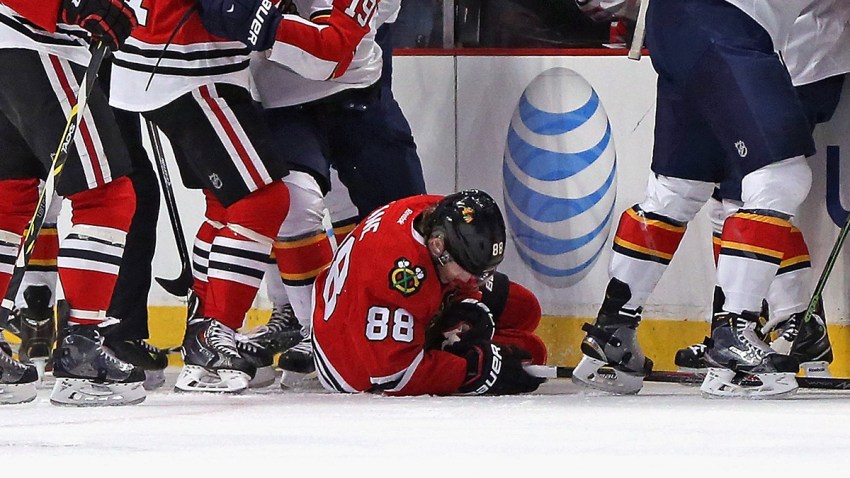 On Wednesday, the Chicago Blackhawks welcomed Patrick Kane back to the practice rink for the first time to skate with his teammates, but that doesn't mean he'll be back on the ice for a game any time soon.
Both Kane and head coach Joel Quenneville said that there had been no change to the timetable adopted for the winger to come back from a broken clavicle, but it is good news to see him hitting the ice and participating in training activities.
With just six games left in the regular season, it still seems highly unlikely that Kane would come back before the conclusion of the campaign, but just in case you or the Blackhawks were harboring any hopes of seeing #88 on the ice soon, here's Chris Kuc of the Chicago Tribune to help keep everything in perspective:
Confirming, #Blackhawks can't activate Patrick Kane from injured list until playoffs due to salary-cap restrictions. No room at the inn. — Chris Kuc (@ChrisKuc) April 2, 2015
When the Blackhawks acquired defenseman Kimmo Timonen, center Antoine Vermette and winger Andrew Desjardins before the NHL trade deadline last month, they accomplished the feat using cap space created by Kane's addition to the Long Term Injured Reserve list. That list allows the Blackhawks to exceed the salary cap in order to help replace Kane, and all three of those salaries ended up fitting into the team's lineup because of that extra space.
If Kane wanted to come back before the end of the regular season, there is no way that he would be able to do so without some significant shuffling of the roster. The Hawks only have $1.5 million worth of cap space at the moment, which would mean that they would have to clear nearly $5 million in space to get Kane back on the roster. That simply isn't going to happen without sending someone like Patrick Sharp to the AHL, and the Blackhawks wouldn't want to do that since it would mean the winger would have to clear waivers.