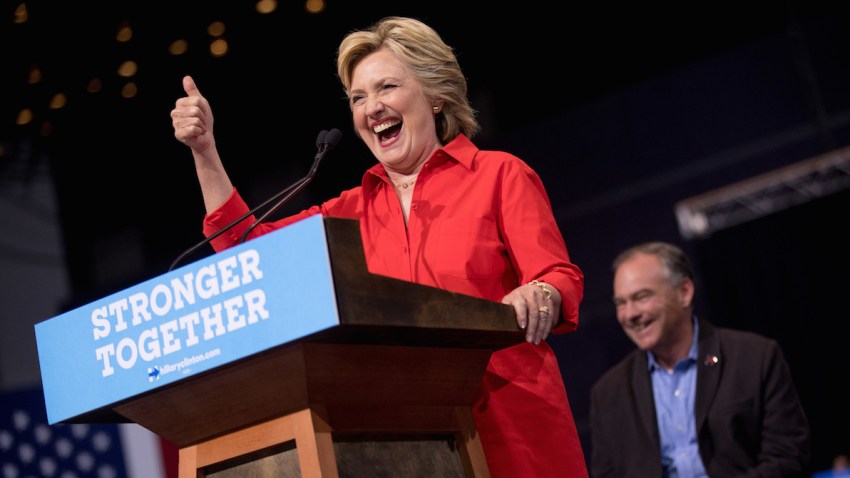 Democratic presidential nominee Hillary Clinton and her running mate, Virginia Sen. Tim Kaine, are hitting Chicago this month for a handful of fundraisers, Lynn Sweet of the Chicago Sun-Times reports.
Clinton will attend a high-priced fundraiser in the city on Sept. 29, Sweet reports. The event offers a variety of pricing options, with tickets ranging from $2,700 for one ticket to $33,400 per table contributed or raised from other people, which includes a photo-op with the candidate, to $150,000 to contribute or raise, which includes VIP access to Clinton.
On Monday, Clinton is scheduled to attend a Labor Day picnic in the Quad Cities alongside Sen. Dick Durbin and Rep. Tammy Duckworth, among others.
Additionally, Kaine is slated to headline a Sept. 14 event at Bill Daley's home. Daley is the brother of former Chicago mayor Richard M. Daley. He served as President Barack Obama's former chief of staff and President Bill Clinton's former commerce secretary. Tickets for the event range from $10,000 to donate or raise, which includes VIP access, to $50,000 for a photo with the senator.
That same day, Kaine will also attend a reception at art dealer Paul Gray's home. Tickets for that event range from $5,000, which includes a photo with Kaine, to $7,500 for a photo-op and campaign briefing to $25,000 to donate or raise, which includes access to a VIP reception.
Meanwhile, Republican presidential nominee Donald Trump is scheduled to host his own big-ticket fundraiser in Bolingbrook on Sept. 12.