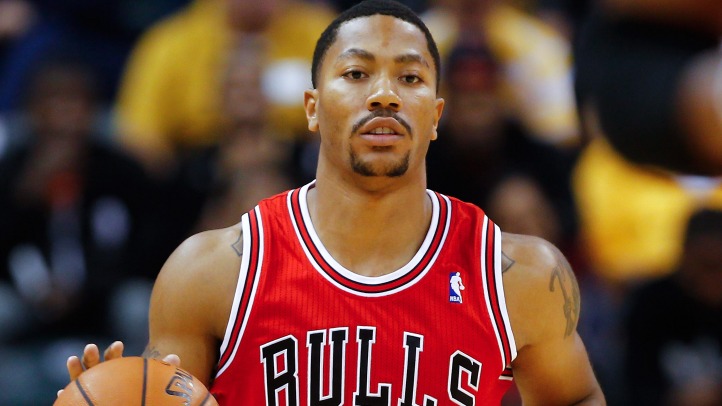 Derrick Rose will not be playing in Saturday's preseason game against the Wizards due to left-knee soreness, according to a report from the Chicago Tribune.
The team said the move was "precautionary," according to the report, and Kirk Hinrich will replace Rose in the lineup.
Center Joakim Noah will also sit out Saturday and will be replaced by Nazr Mohammed.
After a 17-month layoff, Derrick Rose passed his first big test against the Bulls preseason showdown with the Indiana Pacers last week.
"[The knee] feels great," Rose said to ESPN Chicago before Sunday's practice in St. Louis where the Bulls will take on the Memphis Grizzlies Monday night. "I'm not sore or anything. My leg's good. Just trying to stay focused and trying to take it one day at a time."
"No soreness at all," Rose continued. "After the game it felt like I hadn't even played, so I guess that's a good sign."
But the Bulls and Wizards were reminding fans that Saturday's NBA game in South America, the first of its kind, was still a preseason game nad noted the starters' minutes will not be in regular-season range, the Tribune reported.
"I think it's important for that second unit to develop chemistry, and there are some guys on that second unit who will play with the starters," Thibodeau told the paper. "We have the ability to play Kirk (Hinrich) at (shooting guard), Luol (Deng) at (power forward), Jimmy (Butler) at (power forward). We want to get comfortable at all different aspects."