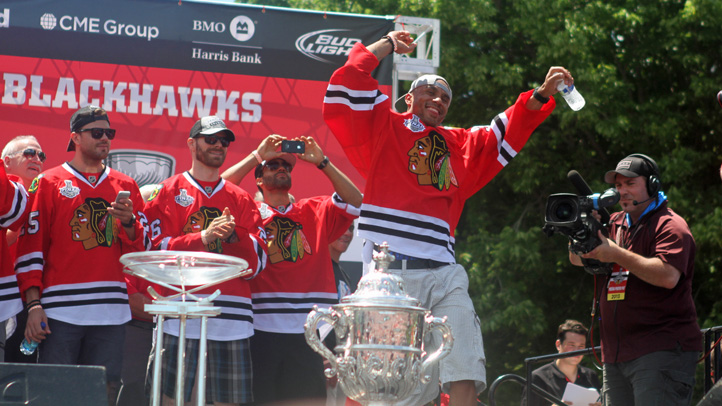 According to a report published by the magazine, The Fourth Period, the Chicago Blackhawks may not be relying upon late season acquisition Antti Raanta to be their backup goaltender after all.
That's because the Hawks may be close to re-signing goaltender Ray Emery. He is certainly going to get a raise after his excellent 2013 campaign, where he went 17-1-0 with a 1.94 GAA and a .922 save percentage. He also won his first 12 decisions, setting an NHL record in the process.
Here is more from the TFP report:
"Blackhawks GM Stan Bowman met with Emery's agent J.P. Barry on Sunday evening and will continue discussions this week.

"It's believed Emery will receive a fair raise (he made $1.15 million last season), the source said, and the netminder is comfortable with his role with the organization, as the backup to Corey Crawford."
The Hawks had cap space cleared up when they shipped Dave Bolland and Michael Frolik to other locales, and it's interesting to see Bowman potentially using it on bringing back a goalie at an elevated price. The market is thin in that area, however, with only bought out keepers like Rick DiPietro and Ilya Bryzgalov representing the available talent.
Neither of those guys would be a fit for the Hawks, so if Chicago wants a veteran back-up comfortable with the Hawks' system, Emery seems ideal.
One question raised by some Hawks fans is what a potential Emery deal would mean for their salary cap situation. Raanta signed a 1-year entry level deal in June, with a cap hit of around $1.4 million. Under the terms of the new collective bargaining agreement, a player can't just be buried in the AHL in order to keep their cap hit off the books, but under the formula the league uses to determine cap hit, Raanta wouldn't count on the Hawks' cap.
Here's the formula that determines it:
Player's AHL salary - (minimum NHL salary + $375,000) = cap hit
Raanta's AHL salary is $70,000. The minimum NHL salary in 2013-14 will be $550,000, so obviously Raanta will not count against the Hawks' cap if he begins the season with the Rockford IceHogs. This means that he can go the same route that Antti Niemi went as he transitioned from Finland to the NHL, and it gives the Hawks the ability to seek out a veteran back-up for Crawford in the upcoming season.
UPDATE: 12:25pm CDT
According to Chris Kuc of the Chicago Tribune, Emery's agent will be meeting on Tuesday with Bowman to discuss a potential contract.
#Blackhawks GM Stan Bowman and agent for goaltender Ray Emery are negotiating a new contract and will meet again today. — Chris Kuc (@ChrisKuc) July 2, 2013