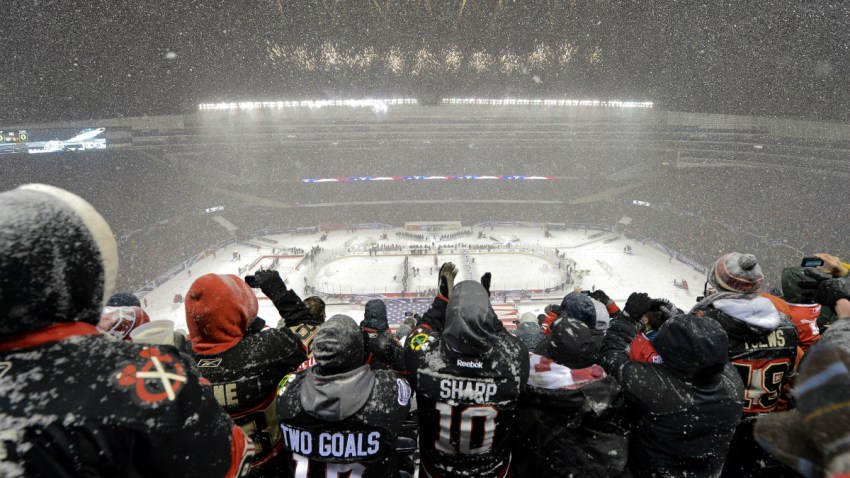 With their soaring popularity and their run of success in recent years, the Chicago Blackhawks are unquestionably one of the marquee teams in the NHL, and that status appears to have landed them in yet another showcase event.
According to a report from J.P. Rutherford of the St. Louis Post Dispatch, the Blackhawks could potentially play in the Winter Classic next season against the St. Louis Blues. The game would take place at Busch Stadium if the plan comes to fruition.
According to Rutherford's report, the league is expected to make an announcement on which team will host the annual Winter Classic game within the next week. An outdoor game between the Philadelphia Flyers and Pittsburgh Penguins is also a potential option for the league, as is a game for the Toronto Maple Leafs.
The league is looking for marquee events to celebrate the 50th anniversary of five different franchises in the league. The Los Angeles Kings already nabbed a big one to celebrate their golden anniversary as they will host the All-Star Game at Staples Center next season, but other teams are still in the mix looking for celebratory events.
The Blues, Kings, Penguins, Flyers, and Dallas Stars (who merged with the sixth team from that expansion class, the California Seals) all will celebrate the 50th anniversary of the league's 1967 expansion next year.
If the Blackhawks and Blues end up battling outdoors, whether in the Winter Classic itself or a Stadium Series game, it will mark the Blues' first outdoor game and the fifth time that the Blackhawks have played outdoors. They hosted the Winter Classic at Wrigley Field in 2009, and hosted a Stadium Series game at Soldier Field in 2014. The Hawks also played in the 2015 Winter Classic against the Washington Capitals.
The Hawks will also play outdoors later this month when they face the Minnesota Wild in a Stadium Series game in Minneapolis.