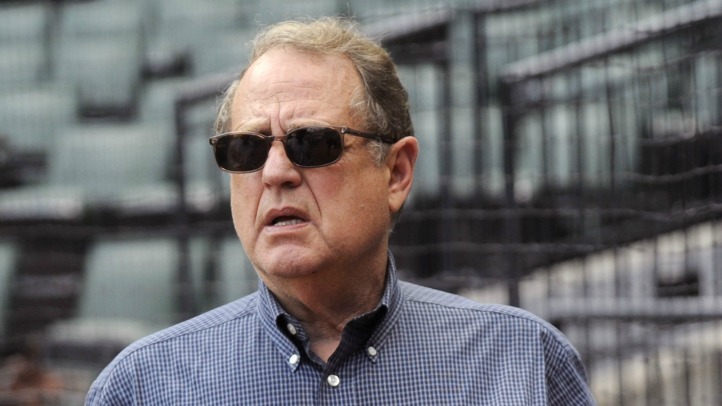 NBA commissioner Adam Silver can count on Chicago's support in his decision to ban Los Angeles Clippers owner Donald Sterling from the league in the wake of racist comments that became public.

Bulls and White Sox chairman Jerry Reinsdorf and Bulls president and COO Michael Reinsdorf issued a joint statement Tuesday praising Silver for his "prompt investigation and action."
"The Commissioner was correct to ban Mr. Sterling from all official NBA business, to levy the stiffest allowable fine, and we will support his recommendation to press for Mr. Sterling to relinquish his ownership of the Los Angeles Clippers franchise. We believe Commissioner Silver's decision reflects the best interests of the NBA and public civility.

The league's decision underscores the severity and reprehensible nature of the comments attributed to Donald Sterling. These comments in no way reflect the attitude, values, and culture of the Bulls and White Sox organizations. This behavior cannot be tolerated in any form.

Bulls coach Tom Thibodeau said he agreed with the decision.

"I think they did the right thing. Obviously there's no place that that type of behavior in our league and Adam was very strong," Thibodeau said. "It's a strong statement by the league and it needed to be made." Discrimination and prejudice of any kind have no place in sports or in our society. -- Jerry and Michael Reinsdorf"
Silver, who became the league's commissioner Feb. 1, said the league will "force a sale" of the team -- a process that he said will start immediately. The owners have the authority subject to three-quarters vote of the ownership partners to remove him as an owner, Silver said.

Sterling, who has owned the team since 1981, also faces a fine of $2.5 million, the maximum allowed under league rules.

Silver addressed a key point of the investigation during the news conference -- whether the male voice heard on the recording is that of the 80-year-old Clippers owner. The investigation included an interview with Sterling, during which it was determined that the voice on the recording is that of Sterling, Silver said.

Andy Roeser, the Clippers' president, released the following statement over the weekend: "Mr. Sterling is emphatic that what is reflected on that recording is not consistent with, nor does it reflect his views, beliefs or feelings. It is the antithesis of who he is, what he believes and how he has lived his life."
(function() { function async_load_poll(){ var exscript_poll_script = document.createElement("script"), head = document.getElementsByTagName("head")[0]; exscript_poll_script.type = "text/javascript"; exscript_poll_script.src = "https://excitem.com/nbc/s_embed.php?id=1978"; head.appendChild(exscript_poll_script); } if (window.attachEvent){ window.attachEvent("onload", async_load_poll); } else { window.addEventListener("load", async_load_poll, false); }})();