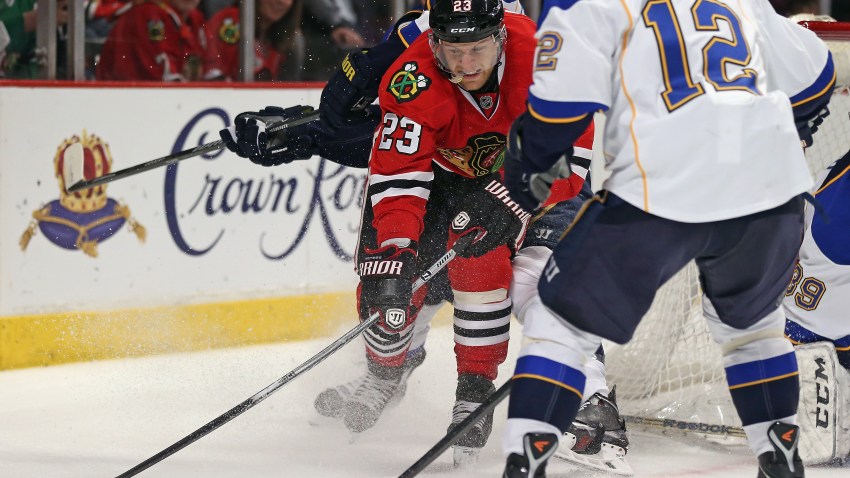 The Chicago Blackhawks were forced to make a couple of changes to their lineup going into Game 5 of their series with the Minnesota Wild, but head coach Joel Quenneville pulled a somewhat surprising move when shuffling around his players.
He decided to put Peter Regin back in the lineup to replace Brandon Bollig, who was suspended for two games by the NHL after his hit on Keith Ballard in Game 4 of the series. Quenneville also removed Jeremy Morin from the lineup, replacing him with Kris Versteeg.
Here's how the new lines shook out for Quenneville and company:
Bickell – Toews – Versteeg
Sharp – Handzus – Hossa
Saad – Kruger – Kane
Nordstrom – Regin – Smith
After being criticized for overworking his top lines in recent weeks, Quenneville looks like he's trying to add a more versatile edge to the lineup. Any one of the guys on the bottom line can play in the center position, so it wouldn't be surprising to see Ben Smith and Peter Regin both jumping up to the second line to play some even strength minutes in place of Michal Handzus.
It's also a bit surprising to see Versteeg jump back into the lineup, especially on the top line, after he's been a healthy scratch on several occasions over the past few weeks. Quenenville is definitely looking at the veteran forward to start contributing more, and to cut back on the mistakes and inconsistency that's been plaguing his game in recent weeks.