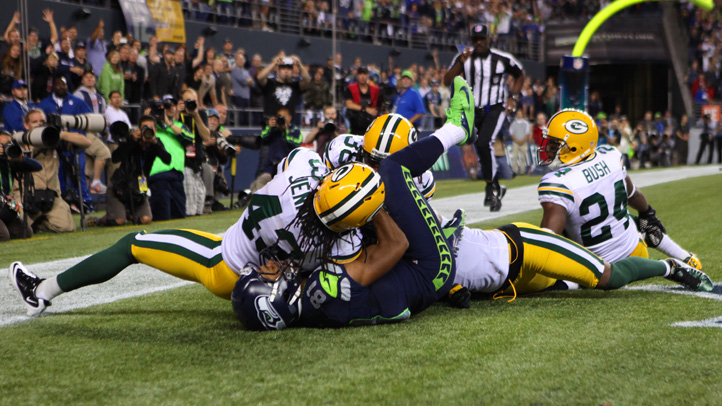 If the Bears and Packers ever agreed on anything, this weekend it was rage over the league's replacement refs.

Sure it was slightly humorous when the stand-in officials mispronounced St. Louis, the town of Sunday's Bears defeat of the Rams. But last night's call against Green Bay sent the Twitter-verse into an uproar.

Even a decades-old rivalry couldn't change the fury over Monday night's final play during the Packers-Seahawks match, and admitted Bears fans decidedly rooting for the Seahawks called the play wrong. And it didn't stop at the state line.

Hall of Fame quarterback Troy Aikman tweeted "These games are a joke," while NBA MVP LeBron James tweeted "I simply just LOVE the NFL to much to see these mistakes. I'm sick like I just played for the Packers."

Here's what happened:

Seattle's Golden Tate pushed a Green Bay defender out of the way, wrestled another for the ball and was awarded a touchdown on the final play to give the Seahawks a 14-12 victory over the Packers.

The game wasn't over for another 10 minutes after both teams went to their locker rooms and were summoned back to the field for the extra point. But that was just the cap to one of the most bizarre finishes in recent memory.

Seattle instantly celebrated while the Packers argued with anyone in a striped shirt. Both teams were eventually shoved to the sidelines as Tate stomped through the end zone in celebration. Following the review, Elliott's announcement sent the stadium into delirium and even more confusion ensued until the teams finally returned to the field for the extra point.

"Don't ask me a question about the officials," Green Bay coach Mike McCarthy said. "I've never seen anything like that in all my years in football."

"I know it's been a wild weekend in the NFL and I guess we're part of it now," he said.

Russell Wilson threw the 24-yard touchdown pass and the crew of replacement officials agreed Tate caught the pass.

"We both had possession of it. I don't even know the rule but I guess the tie goes to the receiver," Tate said.

Asked later if he got his hands on Wilson's pass first, Tate wasn't so sure.

"I think so. ... Oh, well, maybe he did. But I took it from him," Tate said.

The Associated Press contributed to this report.
Copyright AP - Associated Press