Hawks fans can be forgiven for needing medication after watching this year's team. The Hawks aren't the projected car in the mud they were last year. Instead they demonstrate almost bi-polar qualities, making them look dominating at times and completely disinterested and overpowered at others.

On Saturday, they managed to do both and everything in between in one game. That's not easy.
The Hawks were just rolled in the first period, and had only Corey Crawford and some cockeyed finishing from Detroit to thank for not being embarrassed by the time intermission rolled around. They were functional and disciplined in the second to keep things close and snuff out the runaway train the Wings have been. They showed a deep reserve of heart and skill to overwhelm the Wings in the third to tie it. Then they went back to the first thing for OT, and lost. It's all a bit much.
So the three games in two weeks are over, and both teams gained four points out of the ordeal. Everyone's basically back where they started, with the Wings chasing the Hawks in the division.
These three games don't prove everything, other than that a playoff series between the two would be wildly entertaining for the neutral.

The Hawks can make Detroit's aging and slowing defense look ... well, aging and slow. The Wings' top-end talent can still dominate parts of games, and sometimes that's enough to win. The Hawks still look deeper, but their roster is also capable of getting more wayward than the Wings are.
The Hawks have gone 2-0-1 since Patrick Sharp went down, and they've only done that with one goal from Toews, Kane and Hossa. That was Sunday's equalizer that Toews knew next to nothing about, as it merely hit his knee on the way in. Patrick Kane's struggles are a worry, as they appear to be taking Toews with him. But form is temporary, class is permanent. Both will return to the upper echelon.
Another stern test awaits the Hawks against the Sharks. While losses to Detroit do sting, there are games you can get over. This is one of them.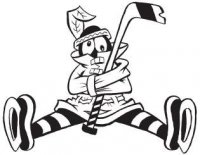 Sam Fels is the proprietor of The Committed Indian, an unofficial program for the Blackhawks. You may have seen him hocking the magazine outside the United Center at Gate 3. The program is also available for purchase online. Fels is a lifelong 'Hawks fan and he also writes for Second City Hockey .