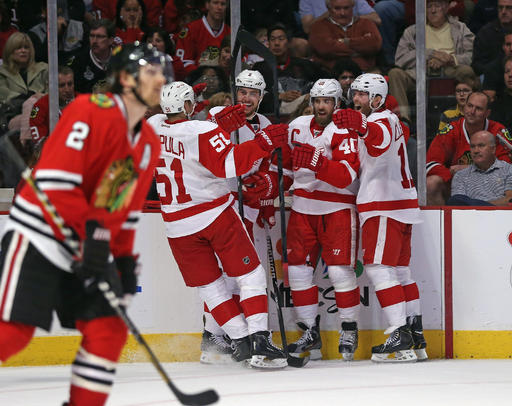 The Chicago Blackhawks were outskated, outhustled, outshot, and most importantly, outscored on Saturday afternoon at the United Center, dropping an embarrassing 4-1 decision to the Detroit Red Wings.
We'll have plenty of reaction to the Hawks' loss, but for now, here were the Three Stars of the Game:
Third Star: Corey Crawford
Crawford did give up four goals on 30 shots in this game, but without his stellar effort, the Blackhawks would not have even come close to winning this one. He stopped several good opportunities for the Wings, especially in the second period, but ultimately he was let down by the lackluster defensive effort in front of him.
Second Star: Brandon Saad
Saad did cough up a bad neutral zone turnover that nearly led to a goal in this game, but among the Blackhawks forwards, he was one of the only ones who really was able to do anything against the Red Wings' defense. He ended up leading the team in shots on goal with five, and he was part of the Hawks' top line that ended up with 11 of the team's 20 shots.
There is a lot to be angry about for this team after this game, but when taken with his performance in Game 1, a bright spot has to be Saad's intensity after getting a message sent to him by head coach Joel Quenneville before the series.
First Star: Patrick Sharp
Sharp had an excellent play in the neutral zone to muscle Detroit defenseman Brendan Smith off the puck, and then used a great burst of speed to cut up the ice, where he tried to dish the puck over to Patrick Kane (it ended up being deflected to Michal Handzus by a diving Detroit defender), and ultimately Kane potted it to give the Hawks an early 1-0 lead.
Saturday's game was the first one this season that the Blackhawks have lost in regulation with Sharp in the lineup this season, and even though he isn't alone in pushing his team to that 31-1-4 mark, his presence in the lineup always means that someone on the ice will be able to do the little things defensively, and then couple that talent with the ability to push the tempo the other way.