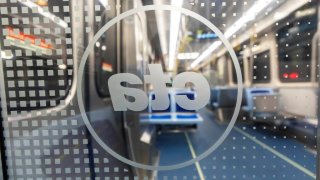 One person was transported to an area hospital Friday evening after being shot while onboard a CTA Red Line train in the Greater Grand Crossing neighborhood on Chicago's South Side, police and CTA said in a joint statement.
The shooting occurred at approximately 5:46 p.m. in the 0-100 block of West 69th Street. According to authorities, the 21-year-old victim was on a southbound train when he was approached by an unknown offender who produced a gun and fired shots.
The victim sustained a gunshot wound to the shoulder and was taken to the University of Chicago Medical Center where he was reported to be in fair condition, according to police. A person of interest was taken in for questioning.
Red Line service was temporarily suspended between 63rd and 65th streets following the shooting, CTA said in a tweet. As of 8:40 p.m., service had resumed with residual delays, and riders were asked to allow for extra time.
Multiple shootings have occurred on either CTA trains or buses within recent weeks, including a shooting onboard a bus that left one person dead and two others with injuries last month.
In the statement issued following Friday evening's shooting, the Chicago Police Department and CTA said they were working around the clock to strengthen safety and explained additional public safety resources were added earlier this year to increase visibility across the transportation system.
"CPD and CTA will continue working together to enhance safety throughout the entire system," the statement read, in part. "This includes the use of video technology that allows both the CPD and CTA to monitor activity and respond quickly to active incidents.
Police and the CTA ask anyone who sees something suspicious to call 911.