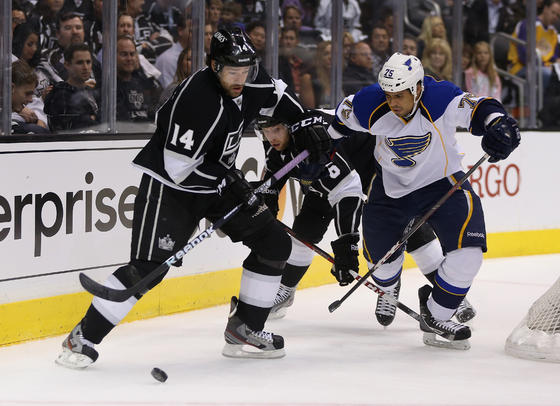 In the aftermath of Chicago Blackhawks defenseman Brent Seabrook's hit on David Backes during Saturday's game against the St. Louis Blues, there has been a lot of talk amongst both players and fans about the hit and whether or not it constituted a "dirty" play.
The Blackhawks (and Seabrook himself) say there was nothing malicious about the hit, and Blues players and coaches have largely side-stepped the question. After the game Blues coach Ken Hitchcock refused to discuss his feelings on the hit, and other players joined in his silence. On Monday though, several players were forced to react to some audio that emerged from after the hit.
In this video, someone is heard saying "wakey, wakey, Backes" after the Blues captain stood up after being knocked to the ice (skip to about 38 seconds into the video):
Blues forward Ryan Reaves had some choice words for the trash talk:
"I don't know who was saying anything. It doesn't matter who was saying it, whether they caught them on camera or not. If something was said, it's gutless. He has to live with it, not me…I think right now, winning the playoff series is the best revenge we can get. We can go send them packing, shining up the golf clubs a little bit. I think that would be the best revenge right now."
For his part, Blackhawks captain Jonathan Toews, who was on the ice and was seen talking to Backes after the play, said that he doesn't remember what was said, but said that he didn't think anything too untoward was said.
"I don't remember what my words were. I think maybe some of their players thought we were trash-talking them after the big hit, but I think we were just trying to clear everything and make sure we could move on from that play…Some things were said in the heat of the moment. Most of that stuff goes unheard on the part of the fans and media."
Obviously if a Hawks player was saying "wakey, wakey Backes," it isn't something that should be celebrated. Backes was clearly in a bad state when he tried to get up after the hit, and if a Hawks player was talking trash to a player who could have suffered a serious head injury, then it is distasteful.
The fact of the matter is that we're not sure who said what, and only the players on the ice know what was said. That is where the story is now, and that's where it should remain unless some other type of evidence comes to the fore.