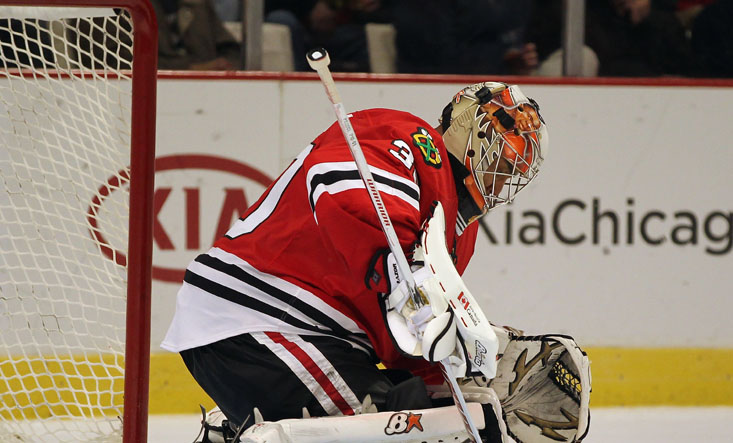 The big buzz out of the Hawks practice today is that Coach Quenneville was pretty much hinting that Ray Emery is going to get the start tomorrow in Denver and that will be the first of his audition/sliding into the driver's seat for the #1 goaltender slot.
Quite frankly, there's little choice. With less than 30 games to go and now a member of the chasing pack, the Hawks are out of time to let Corey Crawford work himself out. The Hawks need points, Crawford is costing them points. Pretty simple stuff.
Adding to this, there's simply no goaltender for the Hawks to go and get via trade. The only one that might even be a consideration is the one they'll see tomorrow in the other crease, Jean-Sebastien Giguere. But with the Avs still not totally 86-ed from the West's Playoff Tavern, they're unlikely to give up a goalie.
But Emery is no sure thing. His numbers, if you deduct the Edmonton disasters, are pretty good. But his problems are well known to everyone. His side-to-side movement just isn't that good, and nor should it be when you have a degenerative hip.
If the Hawks are going to have success, and the kind of memorable success, with Emery in net then their defense is going to have get real tight real quick. They're going to have to limit the amout of movement teams can make with the puck. Passes through the slot to the other side of the net can't happen. Time with the puck to make a move on Emery can't happen. Basically, they have to make sure that Emery sees every shot straight on. If he has to slide to cover one-timers and rushes, they'll have serious problems.
If it doesn't work? Guess we'll all find out together.