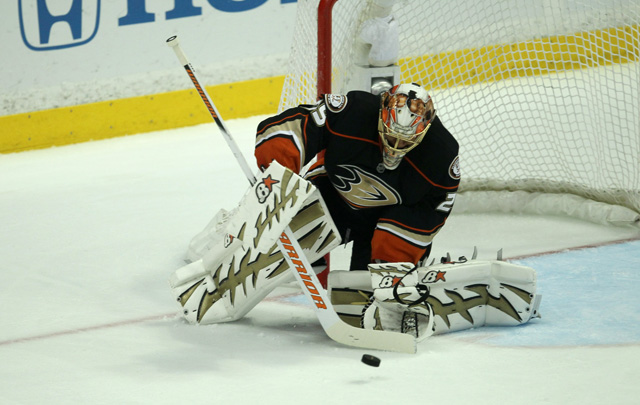 Scott Burnside of ESPN is reporting that Ray Emery will join the Hawks at training camp on a tryout contract. He could still sign a regular contract with someone if that's offered, but if they're jumping at a tryout contract now, then they probably think that's not coming.
Ray Emery has been an interesting study in his career. He came up with the Senators and seized their starting job the first year out of the lockout when Dominik Hasek discovered he was really old.

He was only 23 at the time, and kind of got the yips in the playoffs that year, which saw a loaded Ottawa team get bounced in the second round. But in his first full year as a starter, he backstopped the Sens to the Final, where they lost to the Ducks.
Things fell apart for him the next season, through some injury and some inconsistent play, and he wasn't the starter when the playoffs started. Combine that with some questionable personality and nightlife habits, and the Senators and the rest of the NHL let him walk to Russia for a year.

However, the Flyers brought him back at the start of the 2009-2010 season to be their starter, and through about 30 games he was serviceable. But a hip condition that was thought to threaten his career took over and Emery was done for that season.
After recuperating, Emery joined the Anaheim Ducks for the second half of last year when their starter, Jonas Hiller, went down with vertigo. And he was excellent. He started 10 games and had a goals-against average of 2.28 with a save-percentage of .926, which really helped the Ducks become a far better defensive team than they had been when they were just trusting Hiller to stop 35 shots a night.
It's a good call by Stan Bowman. The Hawks were one tweaked groin on Corey Crawford from having to depend on Alex Salak, who has two NHL games two years ago under his belt. Now Salak will have to earn the backup role as he's competing with a veteran desperate for a job in training camp. Should Emery win it, Corey Crawford will have a reliable backup that Joel Quenneville will probably trust more than he would Salak, and also someone there who has proven he can take over for a short stretch if Crawford gets hurt or complacent.
Bowman's off season keeps getting better.