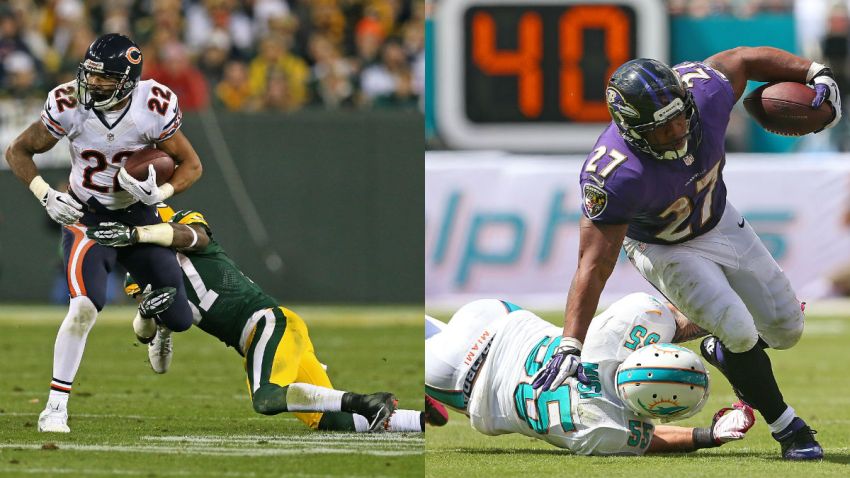 Despite a boatload of injuries that have robbed the Chicago Bears of several key pieces, the football gods have no mercy on them this week, as they will not only have to face the defending Super Bowl champion Baltimore Ravens at Soldier Field on Sunday, but will also have to face a foe that both teams might have trouble with: Mother Nature.
With potentially wild conditions in store for the game, there are still ways that the Bears can emerge victorious in this contest. Without further adieu, here are our Three Keys to a Bears victory on Sunday:
If Run Defense Can Step Up, This Would Be the Week to Do So
As many fantasy football players can attest, the Ravens were supposed to have a potent ground game this season thanks to human-pinball Ray Rice, but that plan hasn't materialized. The Ravens currently sit at 30th in the NFL in rushing yards, only averaging 73.1 yards per game, and Rice himself is only averaging 2.5 yards per carry on 115 attempts this year.
That works out to roughly 36.1 yards per game, and when you add in the two fumbles he's lost, it has been a really bad season for one of the league's premier backs.
Despite these struggles though, both Rice and Bernard Pierce have to be happy to be facing the Bears this week. After all, the Bears allowed Eddie Lacy to run roughshod over them in Week 9, and they have looked downright foolish against Reggie Bush in both of the Bears' losses to the Detroit Lions this season. With Rice's ability to catch the ball out of the backfield, this could be a good matchup for the Ravens' run game, and one that can really get their season back on track.
In spite of this obstacle, the Bears have got to stand tall in this one. Stephen Paea has been hampered with turf toe for just about the entire season, but with the play of Corey Wootton alongside him, it will be imperative for Paea to step up and do his best to get pressure up the middle to force Rice out to the sides of the formation. There, the Bears can take advantage of having David Bass out in place of Shea McClellin against the run, and hopefully Julius Peppers can get some push against an offensive line that has surrendered 30 sacks in nine games.
If the Bears can get pressure coming from all four of their down linemen, then they should be able to keep Rice and company in check.
The Bears Can't Be One-Dimensional on Offense Despite Conditions
With wind speeds of over 25 MPH in the forecast for Sunday's game, it would appear that the deep ball would be taken out of the Bears' arsenal. Fortunately for Chicago though, they'll have already game-planned for that scenario, since Josh McCown doesn't have the arm strength that Jay Cutler does.
Even still though, the Bears cannot afford to allow the Ravens to key on a particular area of their game. Chicago still has plenty of weapons that are capable of catching the ball underneath, with guys like Brandon Marshall and Alshon Jeffery being athletic enough to win one-on-one battles near the line of scrimmage to get space, and the Bears will also have Martellus Bennett in their lineup despite his touch-and-go status with an ankle injury earlier this week.
Having those short-range weapons in the passing game is a big boost to McCown, but he will also find one out of the backfield in Matt Forte. The Bears' running back is on pace to catch nearly 90 passes this year, and has rushed for almost 700 yards in nine games. That versatility is something that the Bears must take advantage of, especially if the weather is as awful as forecasters are predicting.
If Chicago can keep the ball moving forward on the ground, and can get their short-range passing game in order through the air, then they'll be able to keep the clock moving and grind the Ravens into dust. If not, then it could be a long afternoon in what could be a wet and wild Soldier Field.
Special Teams Must Have a Big Week
Special teams has traditionally been one of the strengths of the Bears in recent years, but this season has been a different matter. Whether it's the punting challenges faced by Adam Podlesh, the poor coverage caused by a combination of poor execution and exhaustion from playing minutes in relief of injured defensive players, or even the regime change to Joe DeCamillis, the Bears' third phase has been as inconsistent as any other facet of their game this year.
All of that being the case though, the Bears are going to need their special teams to step up in a big way with conditions expected to be as poor as they're forecasted to be. With Patrick Mannelly likely being sidelined once again this week, the Bears will turn to long snapper Jeremy Cain, who started last week and did an admirable job in place of the longtime mainstay.
Podlesh is also going to have to be at his best against a Ravens team that features a very solid returner in Tandon Doss. On 22 returns this year, Doss is averaging 16.1 yards per return, and had an 82 yard touchdown return earlier this season. On kick-offs, the Ravens boast a dual threat with Jacoby Jones and Deonte Thompson both having solid seasons, averaging well over 20 yards per return on the year.
All of those athletic players on special teams for the Ravens will pose a special challenge to a Bears team trying to get their chemistry down despite a ton of moving parts in that area of the game. If the Bears can maintain their coverage on kicks, and can get some good directional kicking out of both Podlesh and Robbie Gould, then they will stand a much better chance of winning on Sunday.