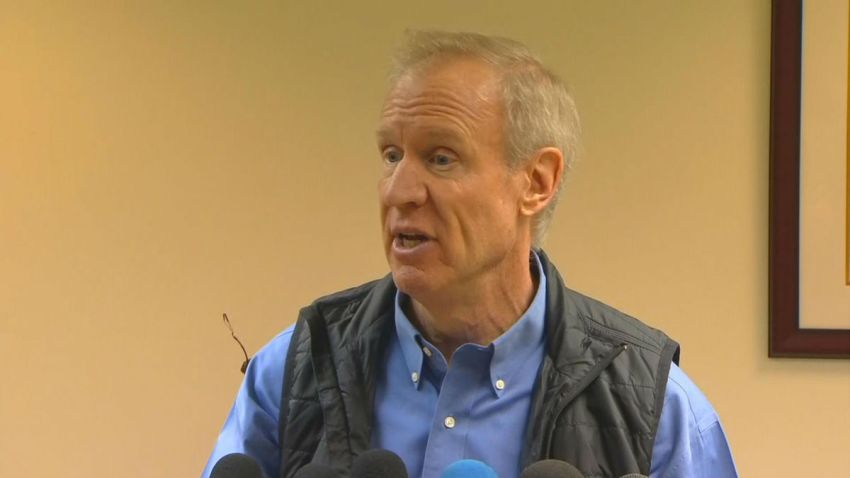 As the state of Illinois barrels towards Election Day, Gov. Bruce Rauner appeared to be feeling the heat of a too-close-for-comfort primary challenge Monday, lashing out at his enemies left and right during a press conference in Hanover Park.
On the offensive, an animated incumbent governor— wearing an open vest, blue button down shirt, jeans and a fist-sized belt buckle — dug into his Republican opponent state Rep. Jeanne Ives and spared no words for the other side of the aisle, accusing Democrats of election meddling in the primary's final hours.
"Washington Democrats have decided to come in and support my opponent Ives in the primary trying to influence the outcome," Rauner said, pointing to Democratic primary front-runner J.B. Pritzker and Illinois House Speaker Michael Madigan as being the money and brains behind it all.
But of all the Democrats subject to Rauner's ire, Madigan's name came through louder than any other. The Illinois Speaker of the House was repeatedly singled out for his role in state politics; In the course of just 13 and a half minutes, Rauner mentioned the House Speaker's name 31 times, accusing him of everything from corruption, profiting off the state's property tax system and raising taxes on voters.
The escalation of Rauner's rhetoric comes on the heels of two TV ads — one attacking Rauner's leadership, the other against Ives for being "too conservative for Illinois." Some political commentators noticed the Ives ad was considerably softer in its attacks than Rauner's.
As a result, Rauner accused the Ives ad, paid for by the Democratic Governors Association (DGA), of presenting the Wheaton-area state representative of too favorably to be a true attack by highlighting her conservative social positions such as abortion bans and NRA record.
Rauner, of course, is no stranger to meddling across the aisle: his campaign has spent hundreds of thousands of dollars on TV ads against Pritzker, including a 15 minute televised ad featuring wiretapped conversations between the Democratic billion and former Gov. Rod Blagojevich, who was convicted on charges of corruption in 2011.
When asked to account for his own spending against Democratic candidates in the midst of his own primary, Rauner replied that "meddling ain't the word for what the DGA is doing."
"You haven't heard me say, 'hey, Biss is too liberal,' you haven't seen me say "vote Kennedy," Rauner told reporters. "You hear the Democratic Governors Association coming in and supporting my opponent."
In the course of the press conference, Rauner also accused Pritzker several times of hiding his wealth in offshore accounts to avoid property taxes — something Rauner may also be guilty of, according to the Chicago Tribune, pointing out that Rauner's name had been posted as an investor in a pool registered in the Cayman Islands through his private equity firm GTCR.
Neither Pritzker nor Rauner has released his complete tax returns to the public to date.