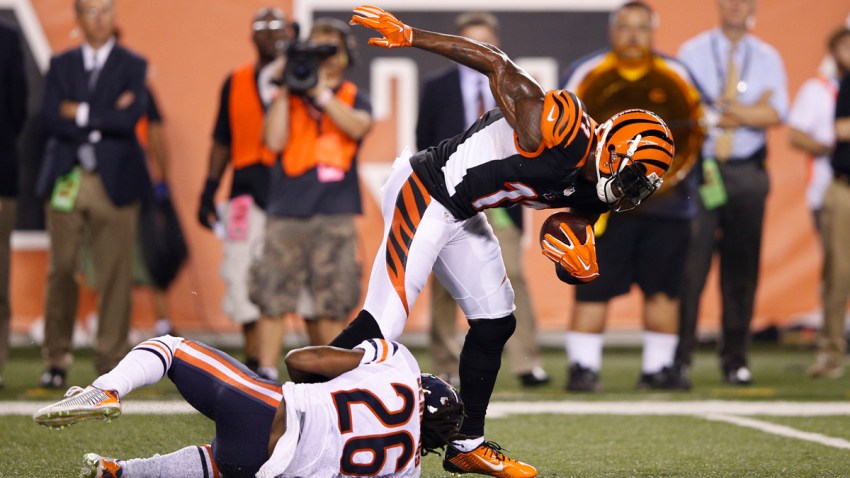 The Chicago Bears may have lost by a score of 21-10 to the Cincinnati Bengals on Saturday night, but the players who suffered injuries in the game could prove to be even bigger losses.
Highlighting the members of the Bears' MASH unit is defensive tackle Jeremiah Ratliff, who left the game after suffering an ankle injury. In his postgame press conference, head coach John Fox said that Ratliff's ankle is not broken, but he was wearing a walking boot and using crutches. He also has an MRI scheduled for Sunday.
The timing of the injury could be somewhat serendipitous, with Ratliff already slated to miss the first three games of the season thanks to a suspension, but his replacement at nose tackle was also injured in the game, as Eddie Goldman was diagnosed with a concussion.
Several other players sustained injuries in the game, with cornerback Tracy Porter going down with a hamstring injury as he fights for a roster spot. Running back Senorise Perry, who is widely believed to have the inside track on the fourth running back position because of his special teams prowess, suffered a leg injury in the game and also had a walking boot on following the contest.
Quarterback Jimmy Clausen didn't emerge from the game unscathed either, as he was forced to leave the contest after being hit while sliding for a short gain in the fourth quarter of the game. David Fales came in to finish the contest, but Fox said that Clausen passed all concussion protocols and that he was medically cleared.
Linebacker Jon Bostic also injured his leg during the game, but the Bears didn't provide an update on his condition following the contest.
The wave of injuries comes at a tough time for the Bears, as they have to trim their roster down to 75 players by Tuesday afternoon. The team also has a really short turnaround this week as they will take on the Cleveland Browns on Thursday night to wrap up the preseason.