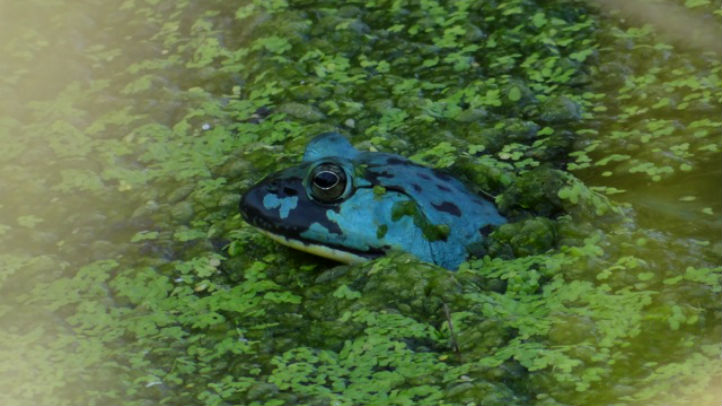 A rare blue frog was sighted Tuesday by forest preserve volunteers at the Hidden Lake Forest Preserve near Downers Grove.
The bullfrog, spotted by volunteer Jerry Zamirowski of Glen Ellyn, had a rare mutation causing the frog to appear bright blue, according to the DuPage County Forest Preserve District.
It is the first sighting of a bullfrog with that mutation on record in the county.
"When [Zamirowski] sent in the photo we said 'This is really fascinating," said DuPage County Forest Preserve District public affairs specialist Bonnie Olszewski. "There are all kinds of reasons why animals might have mutations like genetics or conditions that might cause color mutation, but this bright blue I don't think we've ever seen anything exactly like that before."
The frog's vibrant coloration is likely due to an inability to camouflage properly with the green, marshy area, according to Dan Thompson, ecologist at the DuPage County Forest Preserve.
"We've learned from school that you mix blue and yellow and you get green, but this individual is without those yellow pigment cells and so it is physically unable to make that green coloration," he said. "This is one of those just very rare situations."
The bullfrog appears to be an adult, a surprise to Thompson who declared the frog's age "pretty incredible since it can't camouflage itself quite properly."
Thompson said the mutated frog is a "genetic anomaly," but it may naturally occur more often than recorded and the animals go unnoticed.