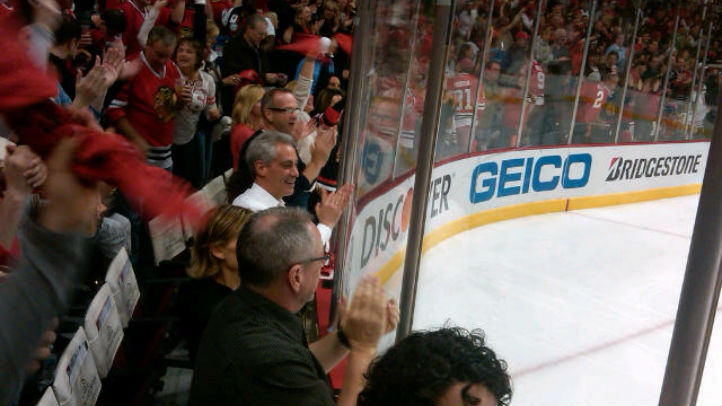 It seems Mayor Rahm Emanuel wasn't just at the Hawks game to watch his team win, he was also there to watch as he won a mayoral bet.
Emanuel placed a wager on the Chicago Blackhawks last weekend, offering Mayor Villaraigosa some hometown favorites, including 25 Italian beef sandwiches from Al's Italian Beef, if the Kings beat the Hawks in this best-of-seven series.
After the Blackhawks edged the Kings in double overtime Saturday night, Emanuel tweeted:
Dear Mayor @villaraigosa, you may send our spoils to 121 N LaSalle St, Chicago, IL cc @nhlblackhawks — ChicagoMayorsOffice (@ChicagosMayor) June 9, 2013
The mayoral beef took shape after Emanuel sent an antagonizing letter to the west coast mayor, calling the Kings tyrants and "unfit to be the champion of the NHL."
Mayor Villaraigosa responded by saying he was shocked the Chicago mayor didn't send him a dead fish.
"I was recently surprised to learn that Chicago has a professional ice hockey team. Who knew? Has this team been in Chicago long? Do they practice out on Lake Michigan when it freezes over in those famously cold and windy winters of yours?" he wrote.
Well, the Hawks are off to the Stanley Cup Finals and Emanuel is set to receive nine #19 Pastrami Sandwiches from Phillipe the Original, one case of Morehouse Mustard (the official mustard of the LA Dodgers), one case of beer each from LA's own Golden Road and Eagle Rock Breweries, three Hollenbeck five-pound Burritos from El Tepeyac Café, 12 bottles of Sriracha Chili Sauce, and one copy of YogaWorks for Everybody to "maintain [Emanuel's] newfound inner peace."

Congrats, @chicagosmayor & @nhlblackhawks. Enjoy your Sriracha,burritos & yoga!Thanks for a great season @lakings! — LA Mayor's Office (@LAMayorsOffice) June 9, 2013