Mayor Rahm Emanuel had a unique opportunity to show off to his former boss, Wednesday.
Tradition dictates that the Mayor of Chicago greet presidents at the airport when the visit town.
For the past two decades that job has fallen Richard Daley, who ruled town. But for the first time since taking the oath of office, Emanuel will get the chance to shake hands with the president and ride with him to the aboard Marine One and beyond.
The two should have plenty to talk about, if reports are to believed that Emanuel -- Obama's former chief of staff -- is still an integral part of the White House operation.
Earlier Wednesday, Emanuel played defense for Obama when he defended the president agains criticism from the right.
Republican National Committee Chairman Reince Priebus slammed the president's trip.
"After failing to lead during the debt-ceiling debate, I think you can say the fundraiser in chief is back in Chicago doing the one thing that he's really good at—and that's raising money to save his job," said Priebus.
Emanuel stepped up the rhetoric.
"He is willing to do unpopular things, the necessary things to keep this country moving forward. I have great admiration for his determination, his grit, his willingness to not do the politically easy thing, to do the tough things," Emanuel said during a morning press conference. "Sometimes I would advise him to do the politically easier thing and he rejected that advice because it was not good for the country in the long term."
Later, Emanuel deflected against similar criticism lobbed by Republican contender Mitt Romney.
"I'd just like to note to the governor, in case he needs a rendezvous with his record, when he was governor Massachusetts was 47th out of 50 in job production," said Emanuel, who took questions at a news conference about a technology week in Chicago. "In case he forgot that, I'd like to remind him of that."
Obama is in town for just a few hours to attend a fundraiser and birthday party in his honor at the Aragon Ballroom in Uptown, Chicago.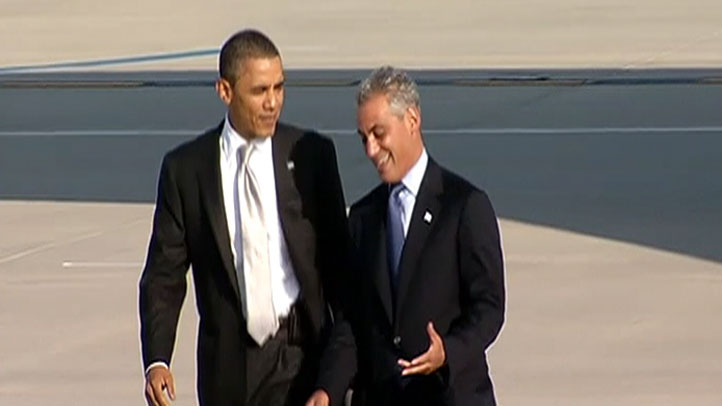 Mayor Rahm Emanuel greets President Obama
Carolyn Kaster, AP